Overheard in Honolulu: Two Leaders in Honolulu's Theater World Talk About Entertainment During Quarantine
Fall usually means packed playhouses applauding the start of the theater season. Not this year. Deena Dray, executive director of Diamond Head Theatre, and Harry Wong III, artistic director of Kumu Kahua Theatre, discuss Hamilton, upcoming milestones, how they've kept audiences engaged throughout closures, and how to write for Zoom.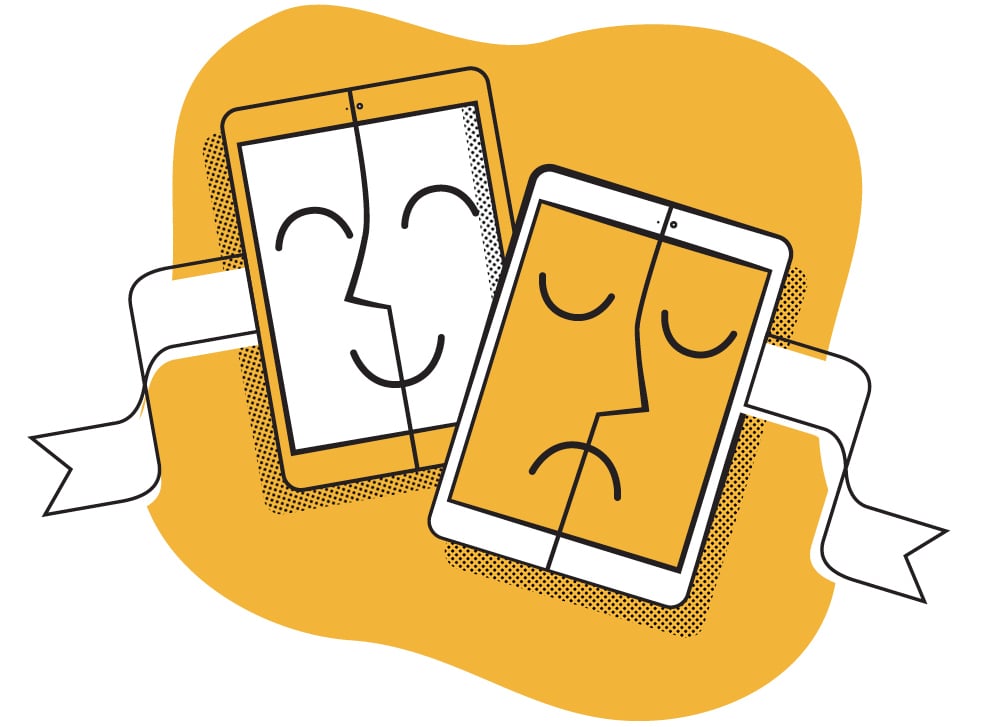 Deena  Dray: So how are you surviving?
Harry  Wong III: The art form that we've devoted most of our lives to, it's incumbent upon people leaving their homes and coming down to a place where they sit next to strangers and they have an experience. We've kind of had to embrace [Zoom] in order to keep going. The first part of our season for sure is going to have to be on that platform.
DD: When is your first show?
HW: I'm aiming for Sept. 17. I've already had to talk to the directors and say, you know … it's an imperfect kind of media. And for me it's not really theater.
DD: It's a placeholder, isn't it?
HW: Yeah, that's a good way of saying that.
---
SEE ALSO: This is How Honolulu's Resilient Arts Organizations are Performing Through the Pandemic
---
DD: We're holding to not doing Zoom performances. We're not doing any kind of shows until maybe the last weekend in November, and then we're doing a socially distanced one-act musical. People have said, why don't you Zoom your shows? And their example is the recent Hamilton  on TV. Probably cost them at least a million dollars to produce it.
HW: This upcoming season is our 50th season. We kind of did something that August Wilson did. We asked our writers to start thinking about a play that represents each decade that the theater has been around. I asked the writers if they wanted to wait to have their play done live and inside the theater, and all of them said they're willing to put their play up [on Zoom] and see where this new form takes us. I was glad that they're all adventurous that way.
DD: I love that idea. What a nice 50-year celebration.
HW: We formed this coalition with two other theaters [to spotlight playwrights] of color. They actually trained  two of our stage managers on Zoom, and now they can do things that I couldn't even imagine was possible before. I think it's been eye opening for all of us, and then of course it works best when the writers have written for Zoom, obviously.
DD: How do you write for Zoom?
HW: Well, we had this one play where a father and son were getting together for dinner except, you know, it's in the COVID era. And so then they talk to each other on Zoom. They have dinner and then they avoid talking about things and somebody will just leave the screen and walk off to like, be upset and mumble something. It works well that way.
DD: Nice. … We did a survey. We learned that people, as much as they want to be supportive of us, and the comments were great, that they're not really ready yet.
HW: We had one subscriber tell us, please, you know, keep my money but just let me know when you guys are going to open up because I don't want to watch anything on Zoom.
DD: We had one person say, I'm going to renew my subscription, but I probably won't come. Because they so love their seats, they're willing to pay for a full year, which they may or may not ever attend. So that's pretty neat. But hopefully, we'll be able to get them in to see a show or two, when the season goes on.