Our Family Guide: 24 Gyms on Oʻahu with Babysitting Services
Stick to your self-care routine with sweat sessions sans kids.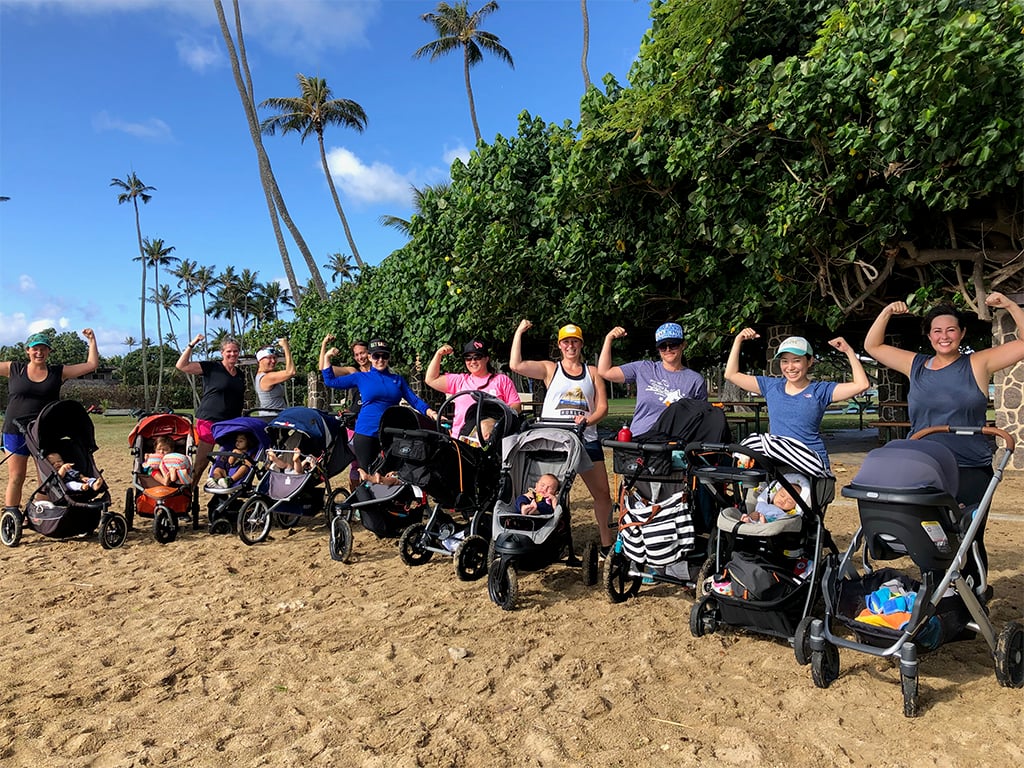 Photo: Courtesy of FIT4MOM
We're three months into 2020 now, but have you kept your New Year's resolutions to exercise and make time for yourself? We've found 24 locations across O'ahu that offer babysitting while you work out. Whether you are looking for intense MMA-inspired training, meditative yoga or a mom's exercise support group, we've got you covered.
24 Hour Fitness
What: Check your keiki into the Kids' Club at select locations where the CPR/AED certified staff will engage your kids in active play, such as games and crafts, to help wear them out while you are working out.
Who: Kids from 6 months to 11 years old
Where: Honolulu Super-Sport Gym, Kapolei Parkway Super-Sport Gym, Mililani Super-Sport Gym, Pearl City Super-Sport Gym and Windward City Active Gym
Cost: $10 per child for up to 2 hours or sign up for a monthly childcare plan ($31.99/month for the first child and $20.99/month for each additional child). Gym membership rates vary based on location and term commitment.
What to know: For quick drop-offs, add your child to your member account and use Cardless Check-In when you arrive. Since you have up to 2 hours of childcare, take advantage of the sauna and the steam room before picking up your kids.
(888) 432-6348, 24hourfitness.com
Egan's Bootcamp
What: Squeeze in a high-intensity 30-minute bootcamp workout and bring your kids along to watch from the sidelines. The unsupervised play area, which is outfitted with kids' tables, books, coloring and seasonal crafts, is adjacent to the workout area, so you can watch over your little ones as you feel the burn.
Who: Kids of all ages
Where: 'Aiea, Honolulu and Kailua locations
Cost: Free with bootcamp enrollment. Bootcamp enrollment cost varies based on your desired results.
What to know: For their safety, kids must remain in the play area off the gym floor. Therefore, this option is best for infants who will remain in their infant carriers or older toddlers who can entertain themselves.
(808) 271-3779, hawaiifitcamp.com
FIT4MOM
What: Work out with the support of other moms going through the same thing you are. The Stroller Strides class keeps keiki entertained in their stroller with songs, such as "Wheels on the Bus" and coordinated exercises to the hit song "Baby Shark." The Honolulu location's Body Back eight-week program offers an on-site playgroup with experienced babysitters while you work out close-by.
Who: Newborns to toddlers (Stroller Strides) or 1-year-olds and up (Body Back Playgroup)
Where: Central O'ahu, 'Ewa Beach, Honolulu, Pearl Harbor and Windward/Kailua locations
Cost: Free with class registration. Classes range from $6 to $12 per class depending on your plan.
What to know: More than the workout, moms enjoy a sense of community with post-class playgroups, snack sharing and parachute play.
(808) 271-3779, fit4mom.com
Kroc Center Hawai'i
What: Leave your keiki in a safe, fun environment for up to 2 hours with the Child Watch service while you exercise in the gym, take a health class or get a massage.
Who: Keiki from 6 months to 11 years old
Where: 91-3257 Kualaka'i Pkwy., 'Ewa Beach
Cost: $4 per session for members, $6 per session for non-members, or $70 for a 20-session punch pass (members only). Kroc Center Family Memberships are $104/month for up to 5 people or $114/month for 6 or more people, plus a one-time $99 registration fee.
What to know: The Child Watch service is available while you take advantage of any of the center's offerings on property, even an adult hula or oil painting class.
(808) 682-5505, kroccenterhawaii.org
UFC Gym
What: Step into the octagon, roll on the Brazilian jiu-jitsu mats or hit the bags with a mixed martial arts-inspired workout while your kids are safe and entertained in the Kids Club room with CPR/AED certified staff for up to 2 hours.
Who: Kids from 6 months to 12 years old
Where: Honolulu, Kailua, Mililani and Waikele locations
Cost: Free for Ultimate Members or $3 per child for Fitness Members. Membership rates vary based on location and level.
What to know: If your keiki are inspired by what they see at the gym, sign them up for UFC youth classes for ages 6 to 15.
See website for phone numbers according to location, ufcgym.com
YMCA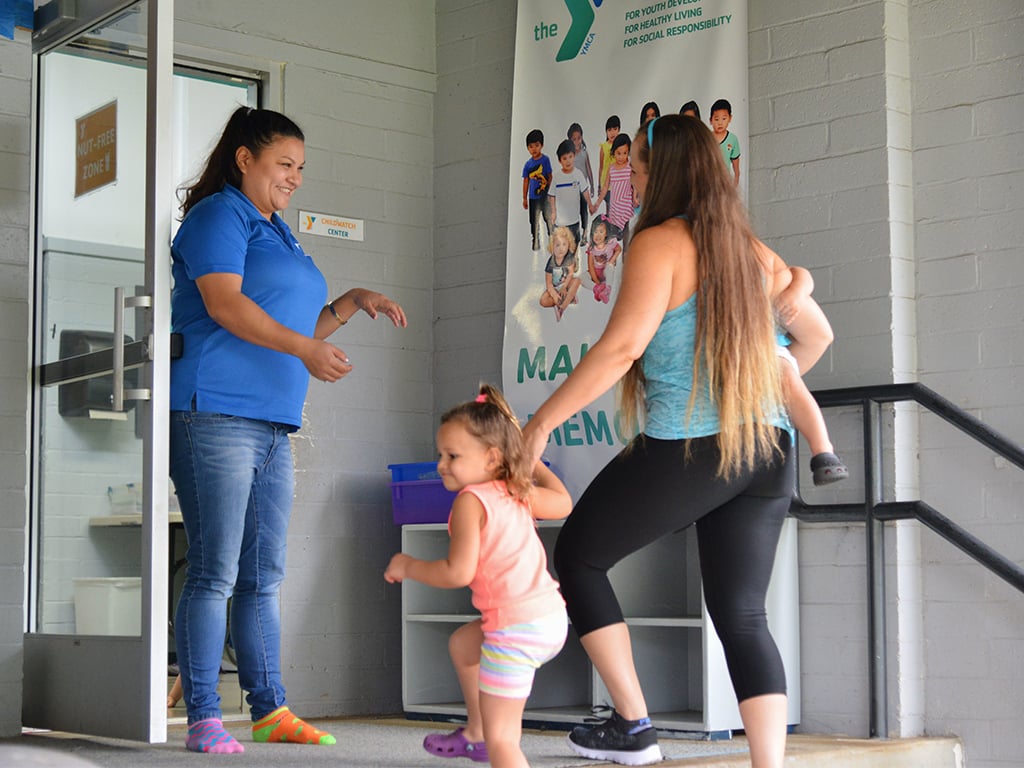 Photo: Courtesy of YMCA Honolulu
What: Whether you choose to join a group exercise class, swim laps or meet with a personal trainer, take advantage of the complimentary on-site Child Watch Program where your keiki will be entertained with indoor and outdoor activities, climbing walls, reading and STEM activities depending on the location and your child's age and abilities.
Who: Kids 6 weeks old and up
Where: Kaimukī-Wai'alae, Kalihi, Leeward, Mililani, Nu'uanu and Windward branches
Cost: Free with a YMCA Family Membership (starting from $70/month, plus a one-time $50 joiner fee)
What to know: It's best to call in advance to let them know you are coming, but it's OK to drop-in too. Staff will watch your kids for up to 2 hours, which means you also have time to shower in peace after your workout.
(808) 531-9622, ymcahonolulu.org