Our Guide: Children and Youth Day 2018
A dozen tips for navigating Hawaiʻi's largest free outdoor festival for kids. Plus, where to find free parking.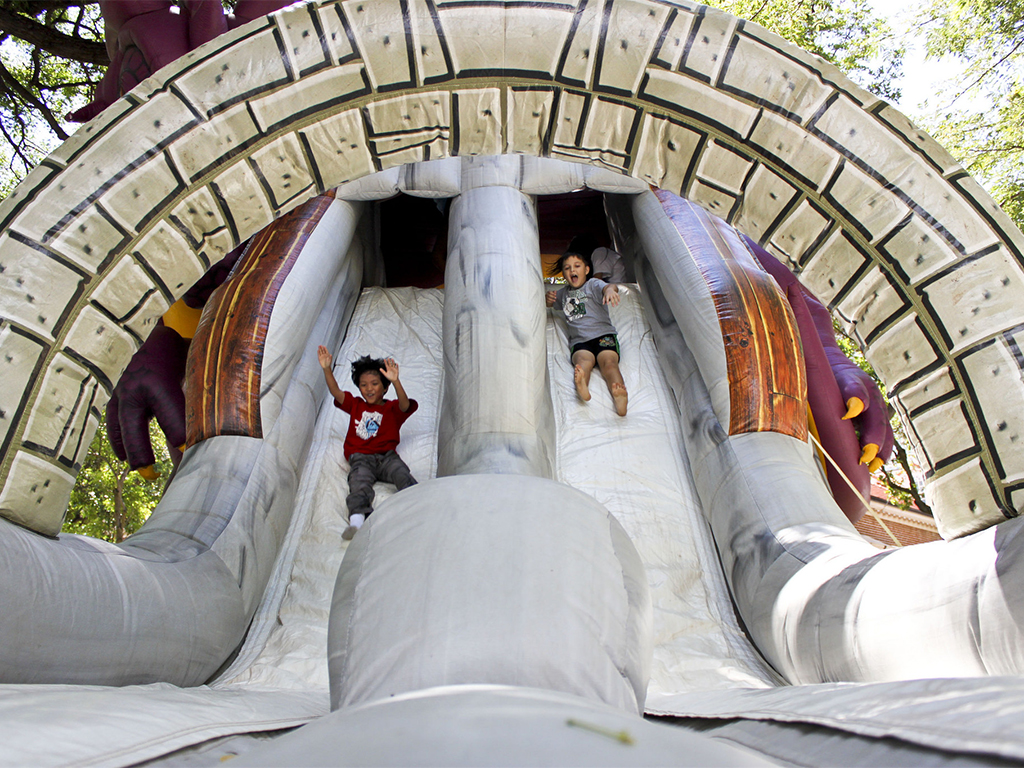 Photo: Courtesy of Children & Youth Day
The state's largest, outdoor free festival for kids—Hawai'i Children and Youth Day—is this Sunday, Oct. 7. Bring your family to the State Capitol grounds from 10 a.m. to 3 p.m. to experience more than 300 activities ranging from wall climbing and gardening, to superhero photos and STEM experiments.
There will be costumed Disney and Marvel characters roaming the grounds, and plenty of surprises, so bring your cameras to capture the thrill on your kids' faces. Museums in the area will give free tours; free kalo plants will be given to families who reserve online; and the CYD Fun Run—1K and 3K routes around the Frank F. Fasi Civic Center—will take place from 6:30 to 9 a.m.
Expect a large, lively crowd at this major event, which always attracts thousands of families and volunteers every year. If you plan to attend, here are 13 ways to maximize your time.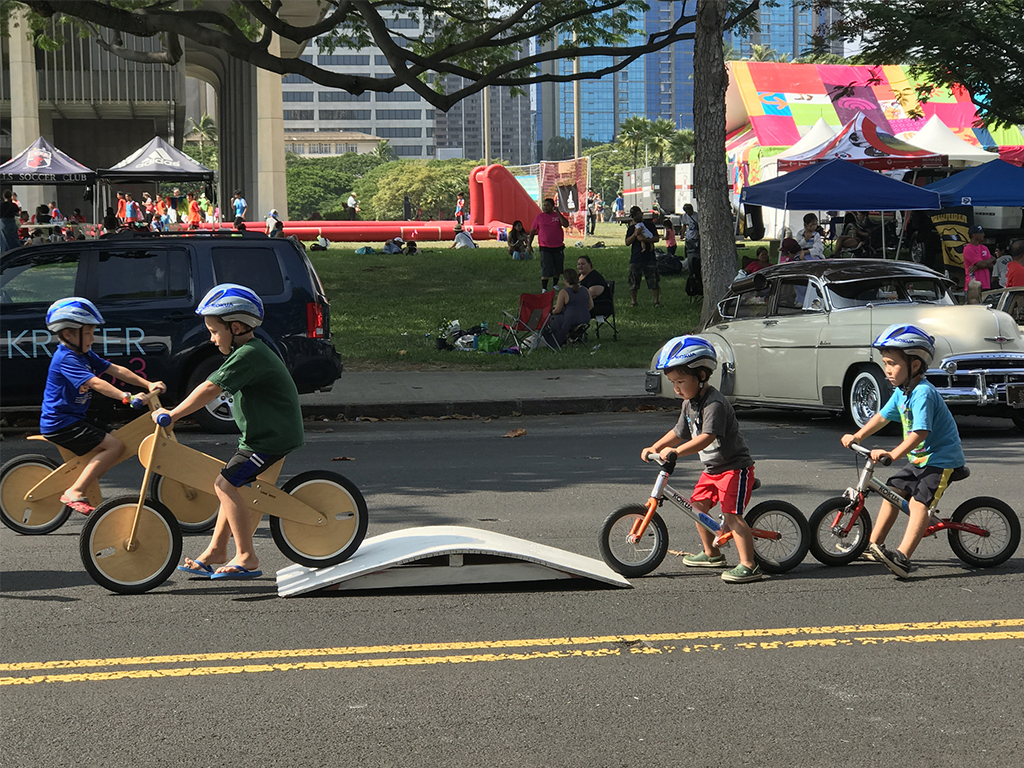 Photo: Courtesy of Children & Youth Day
Helmet-clad keiki ride over mini ramps.
Our 13 Tips
1. Park for free. In addition to the underground municipal lot on Beretania Street, you also can park for free at the garages listed here. Click on the CYD parking map for exact locations.
1250 Punchbowl St. (Kinaʻu Hale). Entrance on Punchbowl Street.
465 S. King St. Entrances on King and Punchbowl streets.
1418 Punchbowl St. Entrance on Punchbowl Street, across from Queen's Emergency Room.
Civic Center at Alapaʻi and Beretania streets. Enter from Beretania Street.
Central Middle School, 1302 Queen Emma St. Entrances on Queen Emma and Kukui streets.
Central Pacific Plaza, 220 S. King St. Entrance on King Street.
2. Grab a Keiki Card. When you arrive, head to one of four information booths distributing maps, entertainment schedules and Keiki Cards, which kids can stamp at activity booths to redeem for prizes. Information booths are located on the west and east sides of the Capitol building, and behind Honolulu Hale.
3. Find your kids' niche. With more than 300 activities, you may want to focus on specific areas. Click on the CYD site map to see the location of booths.
Meantime, four suggestions: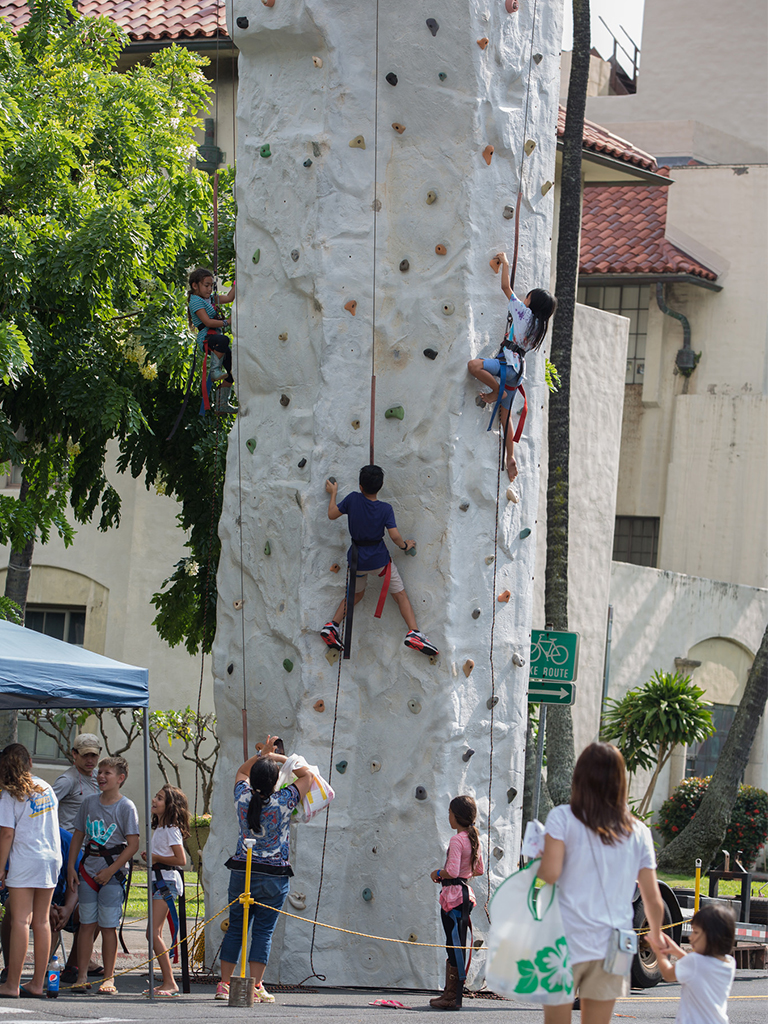 Photo: Courtesy of Children and Youth Day
Rock-climbing wall for adventurous keiki.
If your kids want a free mini pumpkin, kalo plant or seedlings to take home, spend time in the Farm to School Zone, and at the booths by Aloun Farms and Bayer.
Got scientists in your family? Visit Blue Planet Foundation to make UV beaded bracelets, High Energy to power a lightbulb with bare hands, and Malama O Na Keiki for medical tests on simulated baby dolls. Kids also can build campfires with the Girls Scouts, and safely view the sun through filtered telescopes with the Institute for Astronomy. Again, click on the CYD site map for exact locations.
Preschoolers can play in the early-learning zone behind the Hawaiʻi State Library, where there will be fishing, planting, dental and crafting activities. A respite tent for nursing mothers will be across from the preschool zone.
Along Punchbowl Street, there will be obstacle courses, pickleball courts, climbing walls and other extreme sports. Behind the State Capitol, kids can hit tennis balls with the U.S. Tennis Association, swing golf clubs with The First Tee of Hawaiʻi, and play basketball, soccer and football with i9Sports Honolulu.
4. Bring refillable bottles. To reduce plastic-bottle waste, Kokua Hawaiʻi will have filtered water-refill stations throughout the grounds. Fill up your family's water containers throughout the day to stay hydrated in the heat. On the map, water stations are labeled "W" and "WR."
5. Refuel for energy. When kids are having fun, they don't think about eating. Plan for meal breaks! Food booths will sell L&L Hawaiian BBQ, Slush Puppies, Jamba Juice, Pizza Hut, Gordon Biersch, Hawaiian Waffle Dog, Serg's Mexican Kitchen, Linaka's Catering, Da Spot, Pizza Hut, Simply 'Ono, Ono Kettle Pop, Marks's Specialties, and Nalo Snow. There will be designated picnic areas next to the food booths, on the grassy areas behind 'Iolani Palace and between Richards Street and the State Capitol.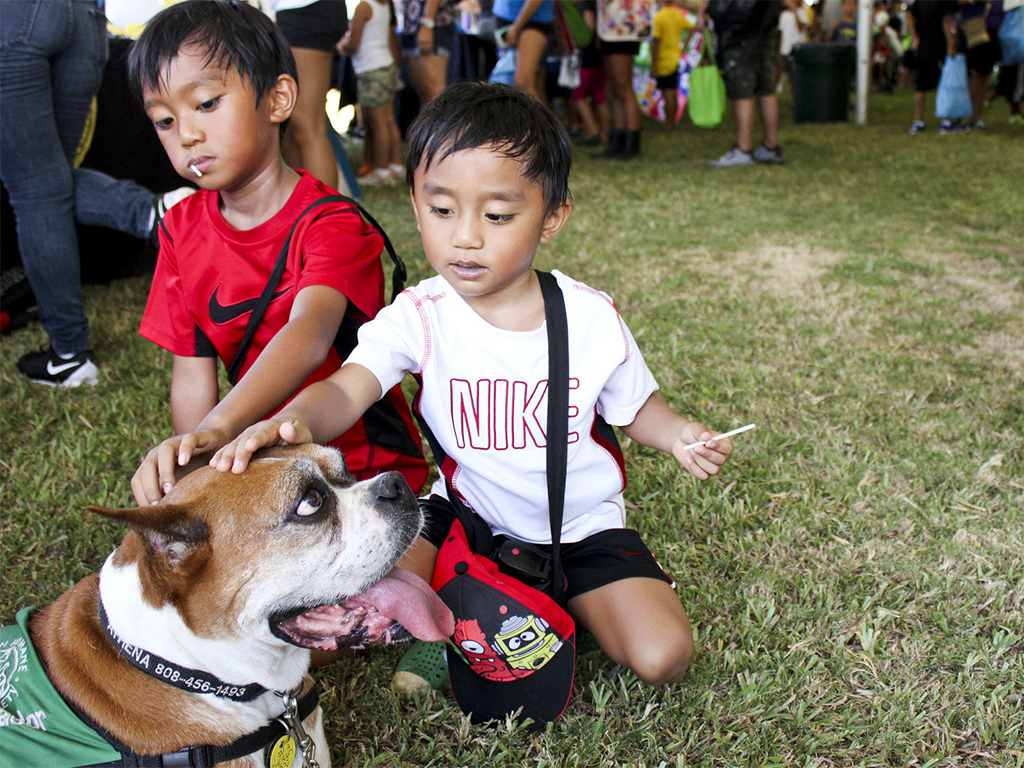 Photo: Courtesy of Children and Youth Day
Kids get acquainted with a therapy dog at Children and Youth Day.
6. Check your car seats. Do you know if your kids' car seats are properly installed? For peace of mind, bring your family's vehicle to the Department of Health's parking lot on the corner of Beretania and Punchbowl streets. There, Queen's Medical Center specialists will inspect infant, toddler and booster seats to ensure your children's safety. The checkpoint station also will give away 50 helmets, while supplies last.
7. Hit the dance floor. "Silent disco" is an activity where participants wear wireless headphones and dance to music only they can hear. Fun to play — and funny to watch! If your kids want to participate, head over to the Hawaiʻi Dance Bomb booth, where there will be a three-channel Silent Disco 4 Kids station. You'll find it in the kids' interactive zone between Richards Street and the State Capitol.
8. Reserve a free taro plant now. A thousand kalo huli, or taro plants, will be given away Sunday. Fill out the online form ahead of time, then stop by the Farm to School Zone behind ʻIolani Palace for a short lesson on growing kalo before taking your plant home. Plants unclaimed by 2:30 p.m. will be given to other families.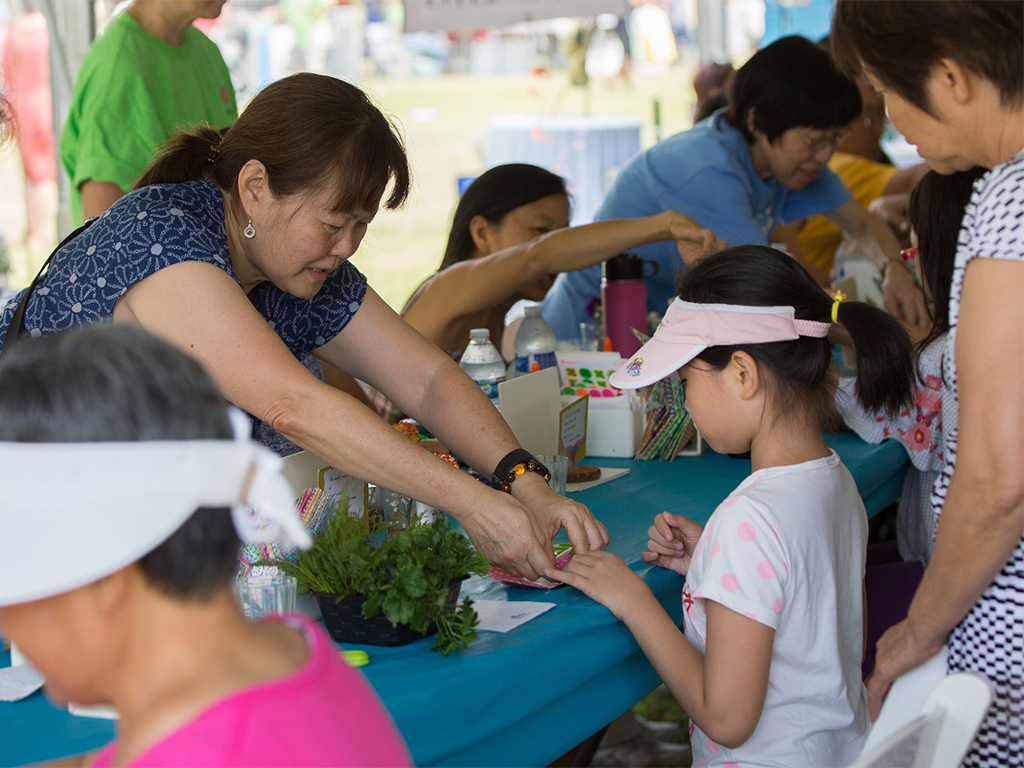 Photo: Courtesy of Children and Youth Day
Volunteers help keiki with arts and crafts.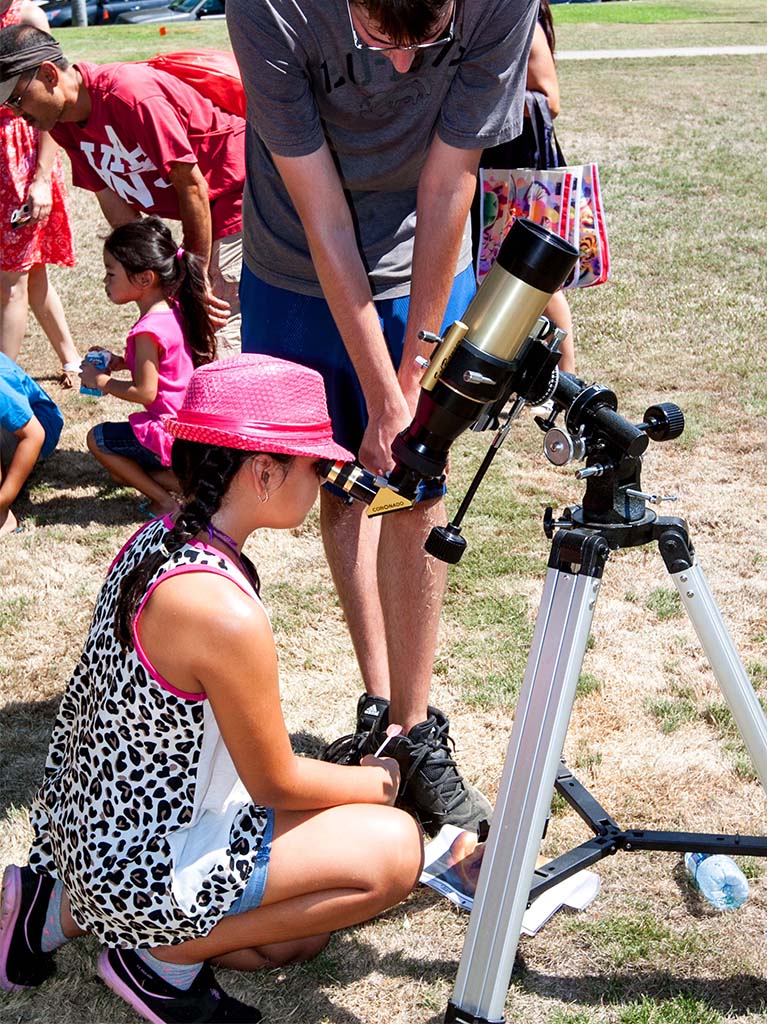 Photo: Children and Youth Day
Kids can safely view the sun through filtered telescopes.
9. See museums for free. Visit ʻIolani Palace on King Street for a free tour of America's only royal residence, then play Hawaiian activities on the lawn. The Hawaiʻi State Art Museum on Richards Street will provide arts and crafts from 11 a.m. to 3 p.m., and the King Kamehameha V Judiciary History Center on King Street will have self-guided tours of the state's courts and legal history.
10. Rise early and run. The free CYD Fun Run will take place from 6:30 to 9 a.m. on 1K and 3K routes around the Frank F. Fasi Civic Center. Keiki will receive a medal, race bib and snacks. Visit CYD Fun Run to register.
11. Plan bathroom breaks early. Restrooms and handwashing facilities are located in the ʻIolani Palace barracks and just outside the Kalanimoku Building behind Honolulu Hale. Consult the CYD site map for exact locations.
12. Go early or late. If possible, arrive at the State Capitol grounds around 10 a.m. so your kids will have shorter wait times for popular activities including Kamaʻāina Kids' climbing wall and ropes course. You can arrive later in the afternoon when crowds cease, but there may not be enough time to enjoy all the activities. Here's an idea: Go with a group of at least two adults. That way, a designated grownup can stand in line while the other one supervises the kids.