Our Guide: Children and Youth Day 2017
Our 13 tips for parking, playing and navigating this free day of fun.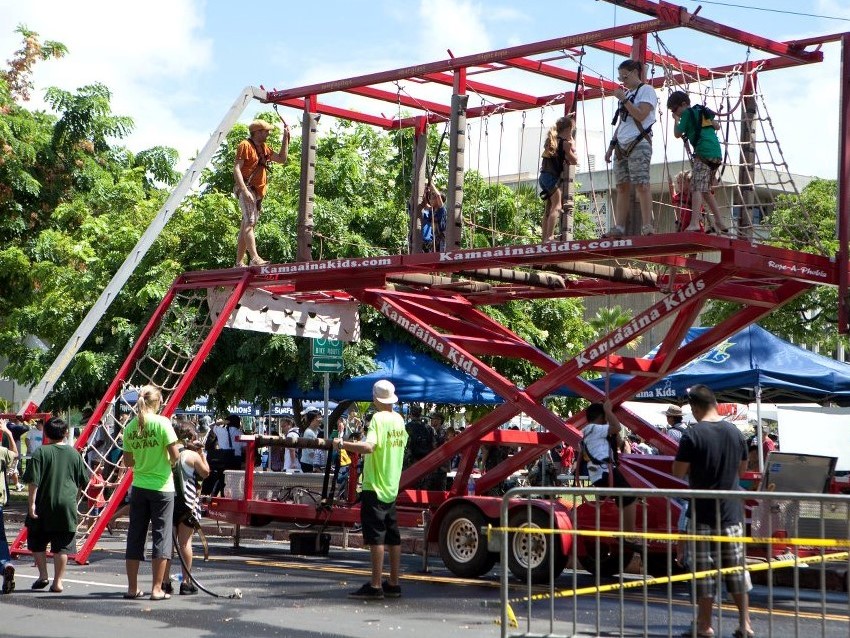 Photo: Children and Youth Day
The 24th Annual Children's and Youth Day is Sunday. From 10 a.m. to 3 p.m. kids can try 300 educational and fun activities as well as museum tours, a plant give away, goodie bags and a fun run. Itʻs all free. Expect a crowd, CYD always draws thousands of people to the State Capitol grounds. We asked the organizers for more details about what to do, where to park, what to eat and how to navigate this giant event.
Our Tips
1. Arrive early or late. This is usually the rule of thumb for keiki activities. And it's especially true at such a large, free event. Since parking expanded last year, it shouldn't be too hard to find a space. (See tip 13 for a list of free lots.) But lines at the most popular activities, including Kamaʻāina Kids' climbing wall and ropes course, are likely to form quickly and get very long. Crowds will ease later in the afternoon but prizes may run out and there may not be enough time to get in lines before they shut down. Consider going in a group. That way an adult can stand in line while another watches keiki run around the grass or take part in other nearby, less crowded activities.
2. Visit an Information Booth first to get a Keiki Card. There are four Information Booths where you can get a map, schedule of entertainment and a Keiki Card, which you stamp at activity booths and redeem for a prize. You will want to finish your card to get the best selection of books, toys and stuffed animals. Last year, there was also a long line at the end of the event.
3. Plan out your route. With more than 300 activities and museum tours, you may want to focus on specific areas. The booths are grouped in categories so take a good look at the site map.
If your child is crazy about archery, batting, climbing walls and ropes courses, you might want to start in the Teen Zone behind Honolulu Hale.
The Children's Zone wraps all the way around the State Capitol, with high-energy activities including bouncers, tennis and soccer along Punchbowl Street.
If your little gardener would rather observe honey bees and earn a free mini pumpkin, head to the Farm to School Zone between ʻIolani Palace and the barracks.
There won't be space exhibits inside the State Capitol this year, but you can see the sun safely with a UH Astronomy telescope outside the building.
The Diamond Head Lawn will have an Early Learning Zone for toddlers.
There will also be four stages with live music and dance throughout the day. See the full entertainment line up here.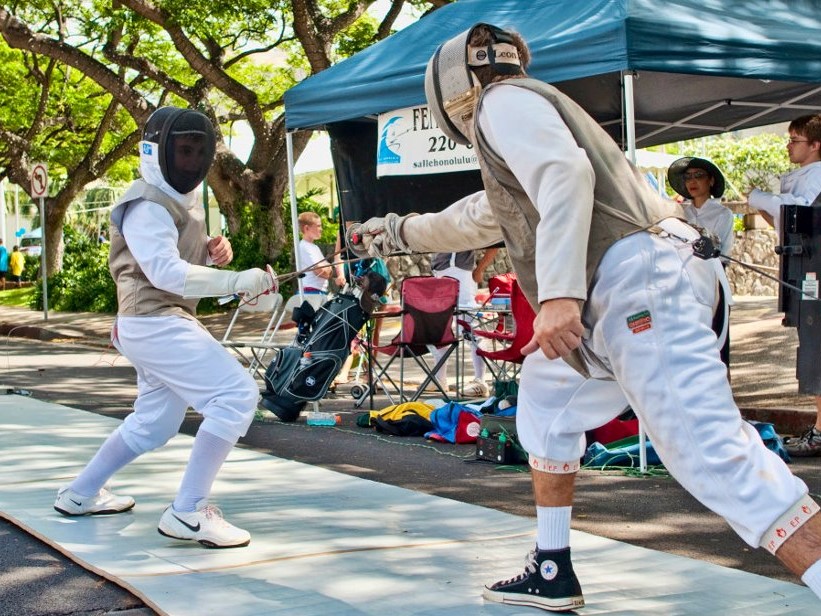 Photo: Children and Youth Day
4. Bring water bottles. Kokua Hawaiʻi will have a filtered water-refill station on the Kalanimoku grounds near to the Dragon Castle bouncer. This new station is designed to cut down on waste, so keep refilling your bottles and stay hydrated.
5. Plan a lunch break. There are a lot more food options this year. Choose from booths including Pizza Hut, Gordon Biersch, Woody's Hot Dogs, Elena's Filipino Food, Serg's Mexican Kitchen, L&L Hawaiian BBQ, Lemonade Alley, Slush Puppies and Jamba Juice, Linaka's Catering, Da Spot, Simply 'Ono, Grinds 2Da Max, Marks's Specialties. There are designated picnic areas on the Richards Street side and behind the Capitol. You can also set up a spot under the trees on the front lawn of ʻIolani Palace.
6. Bring a solid light-colored shirt. You can make a free Gyotaku fish print on it at the Living Art Marine Center booth in the Children's Zone.
7. Hit the dance floor. Don't miss the chance to try out Hawaiʻi Dance Bomb's silent disco. Choose your own tune with light up LED headsets that have multiple channels of music.
8. Sign up now for a free taro plant. A thousand kalo huli, or taro plants, will be given away Sunday. Fill out the online form ahead of time, then stop by the Farm to School Zone near ʻIolani Palace for a short lesson on growing kalo before taking your plant home. Any not picked up by 2:30 p.m. will be given away.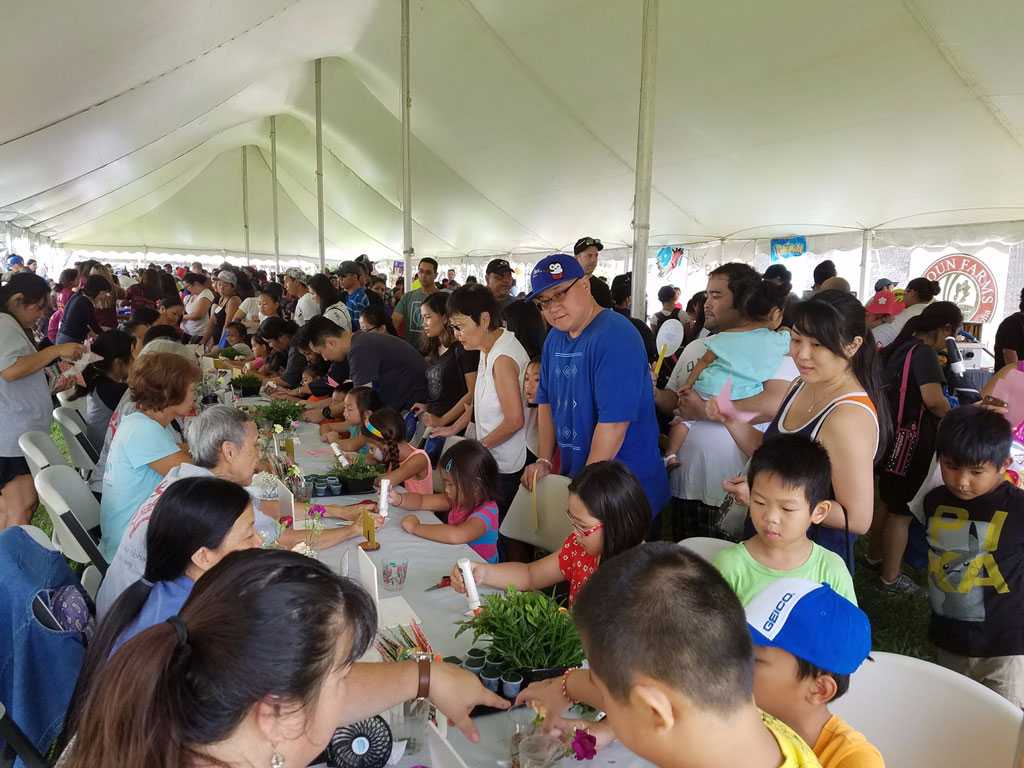 Photo: Children and Youth Day
9. Take a free tour. Walk into ʻIolani Palace for free to see the rooms of America's only royal residence and the royal jewels, then play Hawaiian makahiki games, learn the ʻukulele, weave lauhala and see throw net demonstrations on the lawn. Hawaiʻi State Art Museum will have hands-on arts and crafts. Be sure to check out the "I Love Art" room before you go. Boy Scouts can earn their Law and Justice Merit Badge with a free tour of the state's courts and legal history at the King Kamehameha V Building..
10. Donate your old electronics. Sims Recycling Solutions will be collecting computers, monitors, laptops, printers, cell phones and other electronics. But, please don't bring TVs, batteries, home appliances or tools.
11. Wake up extra early if you want to run. The free CYD Fun Run will take place at Kakaʻako Park this year from 6:30 to 9 a.m. Registration has already closed, but you can sign up for the 1K and 3K races at the park. Keiki will not receive a goodie bag, but they will still go home with a medal, race bib and refreshments.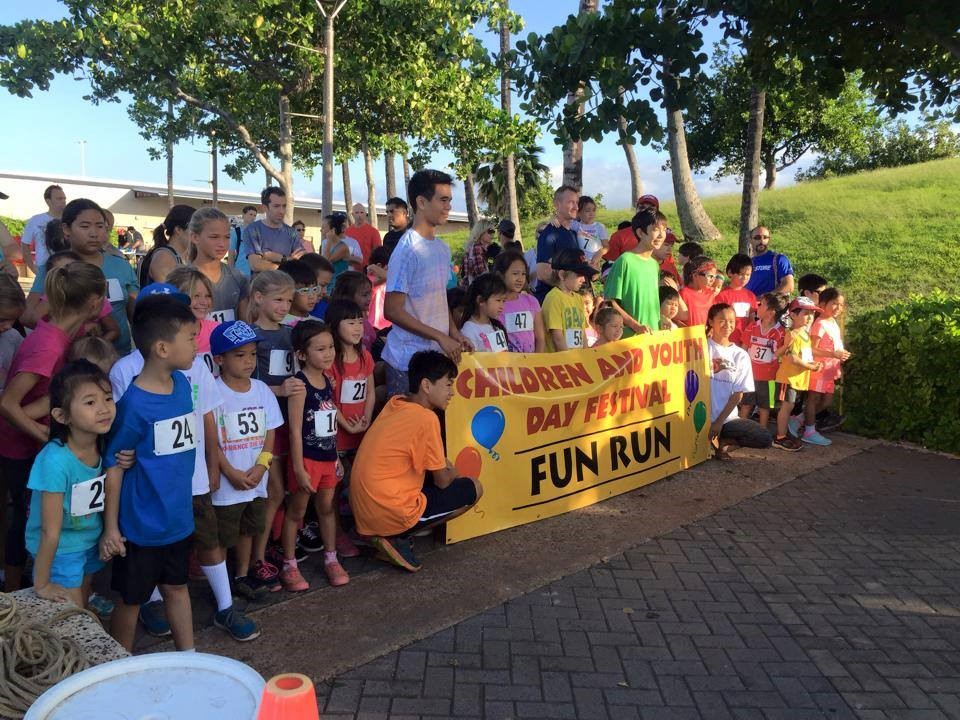 Photo: Children and Youth Day
12. Plan bathroom breaks early. See the map for all facilities but take note that bathrooms in the State Capitol are located in the chamber and on upper floors. That means you'll need to use the elevator to get to them. Other restrooms are in the ʻIolani Palace barracks and just outside the Kalanimoku Building behind Honolulu Hale.
13. Park for free. In addition to the underground municipal lot on Beretania Street, you can also park for free at seven other lots listed below and shown on this map.
1151 Punchbowl St. (Kalanimoku Building). Entrance at the corner of Beretania and Punchbowl streets.
1250 Punchbowl St. (Kinaʻu Hale). Entrance on Punchbowl Street.
465 S. King St. Entrances on King and Punchbowl streets.
1418 Punchbowl St. Entrance on Punchbowl Street, across from Queen's Emergency Room.
Central Middle School, 1302 Queen Emma St. Entrances on Queen Emma and Kukui streets.
Central Pacific Plaza, 220 S. King St.
Central Square, 1188 Bishop St.
Children and Youth Day is Sunday, October 1 from 10 a.m. to 3 p.m. at the State Capitol grounds. hawaiicyd.org