Ossipoff's Diamond Head Design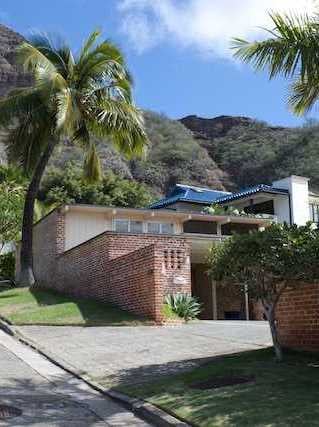 Vladimir Ossipoff, the master of Hawaiian architecture, was a prolific architect, completing his last project, a private home in Honolulu, in 1997, just a year before his death in 1998 at the age of 91. During his 60-year career, he designed dozens of residential and commercial buildings, many of which still stand (Honolulu International Airport, the IBM Building, Liljestrand House, to name but a few).
Given Ossipoff's influence and popularity, his homes, when they do come on the market, are highly coveted and command hefty price tags. For instance, there are about five Ossipoff-designed homes currently for sale, most located on the island's windward side and all listed for more than $3 million. I recently wrote about one located on Kaikoo Pl. near Diamond Head, and I'll be highlighting all of these properties over the next week, so stay tuned.
This Ossipoff-designed Makalei Place home was built in 1952 for Mr. and Mrs. Milton Cades, of Cades Schutte law firm, a Bishop St. institution. The home has changed hands a few times since, and was purchased by its current owner in 1998. The owner, a Mainland resident who also owns the neighboring Hart-Wood-designed residence, acquired the Ossipoff property in 1998, and has rented the home out occasionally over the past several years.
Unfortunately, time and tenants have taken their toll, and the mid-century masterpiece is in need of restoration. The bones are good, with many of Ossipoff's signature details—pocketing doors, functional built-ins, glass window walls, the incorporation of natural materials, such as wood, stone and brick—still very much intact, hinting at the home's potential. Plus, the views from the lanai—ocean to the right, Diamond Head to the left—are definitely worth saving. My historic-preservation bias has been outed in previous postings, so I guess it comes as no surprise that I hope the buyer will be a person who is passionate about mid-century design.
Money talk: The house is listed for $3.9 million. It can be purchased with the neighboring property, which is listed for $6,995,000.
Contact: Stephen Cipres, Elite Pacific Properties. 589-2040, stephen@elitepacific.com.