Ossipoff-Designed Paiko Lagoon House Sold for $7 Million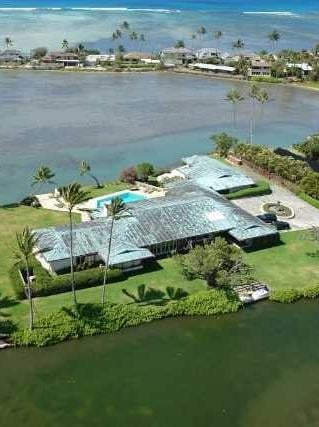 With 700 feet of water frontage on three sides of the property, this Vladimir Ossipoff-designed home's dominant architectural feature is the ocean itself. Built in 1964, the Paiko Lagoon estate is surrounded by conservation lands, the lagoon as well as the ocean, offering panoramic views from just about every room.
According to Coldwell Banker Pacific Properties listing agent Marti Hazzard, Ossipoff designed the house, which was built in 1964, for the Clarkin family. "Mrs. Clarkin loved a sophisticated and highly decorated house, a little glitzy," says Hazzard.It's bel spent a good deal of time sitting on the property studying the topography, views and trade winds to ensure that the home's design would take utmost advantage of its brilliant location. And that it certainly does: Indoor-outdoor living is achieved via perfectly framed views, expansive open-air lanai, indoor ponds and a waterfall, a outdoor swimming pool and lush lawns that spread out over more than an acre. Another standout feature is the home's copper roof, with its aged patina.
Ossipoff's single-story, nearly 8,000-sq.-ft. design remains largely the same, with the exception of some minor updates completed last year by the previous owners, Claire and Richard McDonald, a Las Vegas-based developer, including new granite countertops, Wolf appliances and teak cabinetry in the kitchen. Other typically Ossipoff details include the floor-to-ceiling windows, sliding wood doors and the use of natural materials, such as stone and wood. All told, the home has five bedrooms and six baths, as well as a two-car garage.
According to Hazzard, the house was listed for just three months and closed in a speedy 20 days for $7 million, about a million below asking. The buyers, who are from Japan, own several spas.