Original Ranch Spinach Dip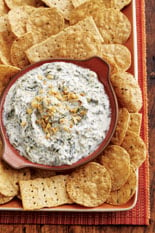 Original Ranch Spinach Dip
A light version of a favorite dip — with just 5 ingredients
Ingredients:
0 oz (Ounce) Hidden Valley Original Ranch Dip Mix (1/2 packet)
1 c (Cup) nonfat Greek yogurt
1 c (Cup) light sour cream
10 oz (Ounce) frozen chopped spinach, thawed and well-drained (1 box)
0 c (Cup) chopped walnuts
Instructions:
1. Combine Ranch Dip Mix, yogurt, sour cream, spinach and walnuts.
2. Chill 30 minutes, or until just before serving.
3. Serve with whole-wheat crackers and raw vegetables.
Preptime: 10
Source: Family Features
Ready time: 45 minutes