Open House Pick of the Week: Turkish Flair Elevates Punchbowl Condo
This condo is also pet-friendly.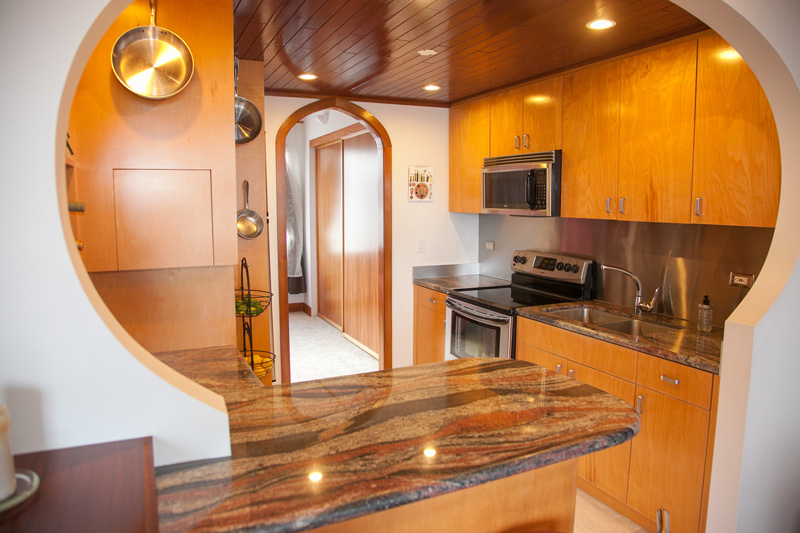 Photos: Courtesy of Carvill Sotheby's International Realty
I'm always amazed at the lengths people go to make small spaces unique, and this week's open-house pick—with custom doorways, cabinets and closets—is a nice example of stylish condo living.
It's a 524-square-foot, one-bedroom, one-bathroom unit in the Terrazza in Punchbowl, with renovations that make you forget the building is 57 years old. In 2007, the owners put in travertine, bamboo, ceramic tiles, granite counters and stainless-steel appliances to give it a contemporary upgrade, aand the custom Turkish-style cutout doorways are the most distinct thing I've ever seen in a condo. The 10-foot coffered ceilings add to the interesting interior and make it seem more spacious, as well.
There is a lot of built-in storage for the unit, which is always a plus.
"It also has the best parking space in the lot—the first one on the right," says Vicky Yu of Carvill Sotheby's International Realty.
The building has a pool, two community laundry areas and is pet-friendly. You can walk your dog (if you have one) to the various coffee shops, markets and restaurants in the area, and the building is near the bus line.
Yu will have cookies at the open house this Sunday, Aug. 16, from 2 to 5 p.m., but I expect people will show up for the price. It's $337,000, with a maintenance fee of $452 per month, which is pretty good for metro Honolulu.
Click here for details.
Happy house hunting!
Money talk: $337,000 fee simple
MLS#: 201510052
Contact: Vicki Yu, Carvill Sotheby's International Realty, 551-8077, vicki@carvillsir.com
Got a suggestion for our real estate blog? Know of a fabulous open house? Fascinating story? We want to know. Shoot us an email at realestate@honolulumagazine.com