Open House Pick of the Week: The Jewel of Kāhala
Get a look at this "fantasy" house with a view of Diamond Head.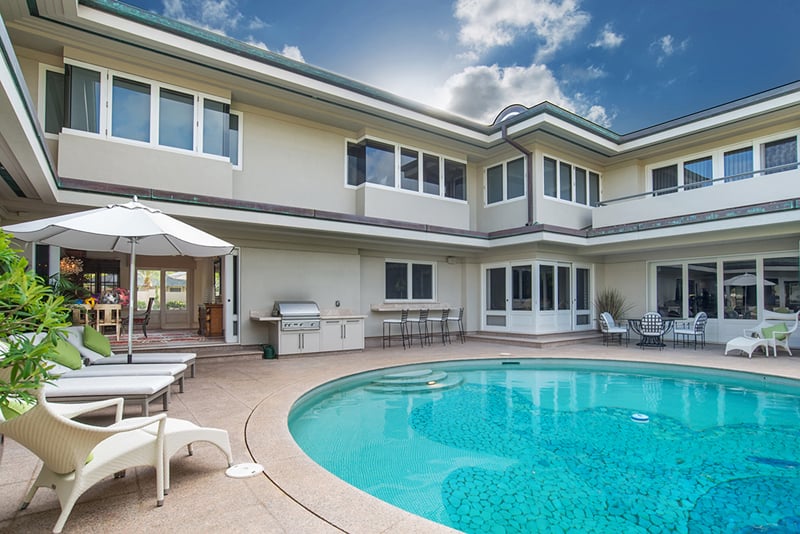 Photos: courtesy of Keller Williams Honolulu
This week's open house pick has gone by some fascinating names conjured up by its former owners, but it's a home worthy of a title. It was originally called the "Fantasy" house by its original owner, famed Australian architect/designer Barry Courtney, who built the house in 1993—and this was apparently his last project.
Each room has a completely different design and a dramatic, different ceiling. Hand-painted court jesters at the kitchen entrance by the original decorator is still there, as is the fresco on the walls and on the ceiling of the upstairs game room. Click here to see a 3D tour of the home for a visual example of the themed rooms.
New art was incorporated into the home in recent years: The current owners, Mr. and Mrs. Batt, brought world-renowned decorator Sheldon Tager out of retirement to transform it into the "Jewel of Kāhala," the home's current name. The red sculpture in front of the house was done by Matt Devine, a self-taught sculptor, currently residing in California.
The home is huge, with 8,317 square feet of living area and another 1,448 square feet of lānai. The lot is 13,500 square feet.
There are five bedrooms, six full bathrooms and two half baths (all with Toto washlets); one of the bathrooms downstairs is covered from floor to ceiling in pink marble! The grand staircase leads to the master suite, which features more than 1,400 square feet with two balconies and a view of Diamond Head.
The entertainment/karaoke room with a wet bar opens to the pool and hot tub area, making it great for entertaining.
This home will be open from 2 to 5 p.m. on Sunday, Dec. 27. Click here for more details.
Happy house hunting!
Money talk: $6.88 million fee simple
Contact: Carl W. Smigielski, Keller Williams Honolulu, 808-225-2400, carl@sandislehawaii.com