Open House Pick of the Week: Portlock Home is a Short Walk to Maunalua Bay
Spacious, renovated home has an architect's touch.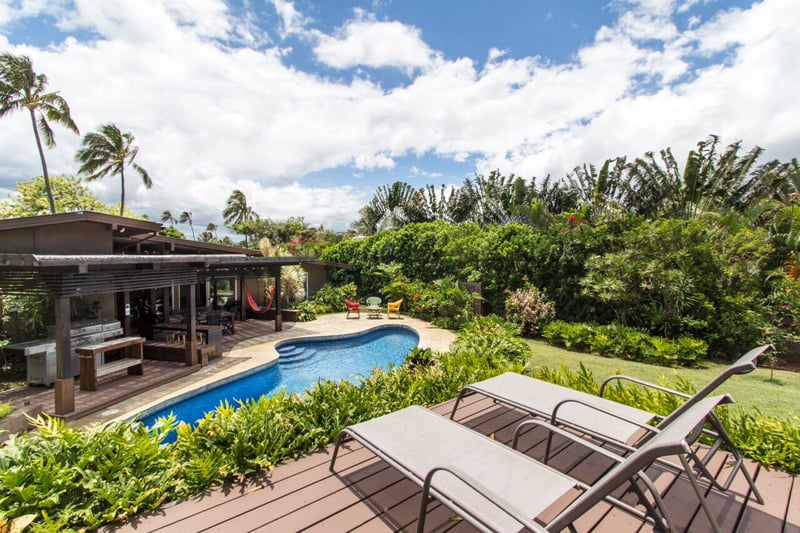 Photo: Courtesy of Better Homes and Gardens Real Estate Advantage Realty
Today's open house pick is not just a large home on a very large lot; the floor plan is so open and airy, the place feels even bigger than it is. It's also been renovated by an architect, which adds to the beauty of it.
This Portlock house was built in 1966, but an architect purchased it and did a full renovation in 2013—everything from the bamboo floors and custom windows to the landscaping. Since he was also an excellent woodworker, he even built some of the furniture in the home!
The single-level, 2,412-square-foot home has three bedrooms and two bathrooms with an upscale, Island-contemporary design. It has split air conditioning, but you may not need it, as the tradewinds come through the backyard and into the main living area. PV panels were installed last year to help keep energy bills low.
The lot is 12,779 square feet with a garden, tropical plants, a productive mango tree (just in time for mango season) and tall mock-orange bushes that make the entire backyard private. Since the lot is so huge, there's plenty of grass for kids and pets to roam, even with the pool and barbecue area.
This home is located on a quiet, tree-lined street off Portlock's main road, and is also a very short walk to Maunalua Bay.
This new listing will have its first open house on Sunday, June 7, from 2 to 5 p.m. Click here for details. (Disclaimer: This is listed by Jaymes Song, who also contributes to HONOLULU's real estate blog.)
Happy house hunting!
Money talk: $1,988,000 fee simple
MLS#: 201509163
Contact: Jaymes Song, Better Homes and Gardens Real Estate Advantage Realty, 228-3332, jaymess@betterhawaii.com