Open House Pick of the Week: Luxurious Lanikai Home Owned by Famous People
Look for "Finding Nemo" on the bottom of the swimming pool.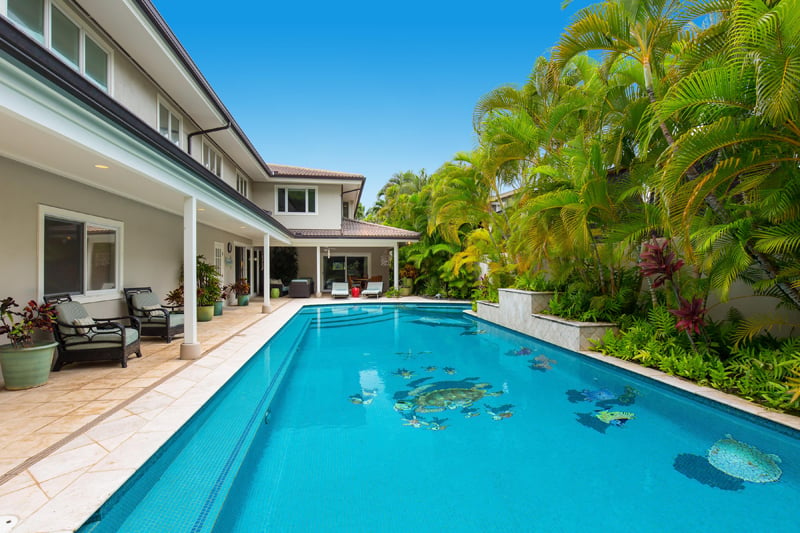 Photo: Courtesy of Hiep Nguyen
Most people who want to live in Kailua want to live near Lanikai Beach. This week's open-house pick is typical of the luxury homes you'll find there, but it does have some special little features that make it a must-see.
I'm not allowed to name names, but the house was once owned by someone who "played a significant role" with the Saint Louis Cardinals and the New York Mets. It was also once owned by a high-ranking Pixar executive, which is why you'll find some of the characters from Finding Nemo tiled into the bottom of the swimming pool.
Aside from its connection to a couple of famous people, the home itself is pretty stunning. The two-story house has six bedrooms and seven-and-a-half bathrooms, and is a ginormous 6,621 square feet. (This includes the detached one-bedroom cottage.) The property is 14,410 square feet, so, in addition to the pool area, the yard is quite large.
It comes fully furnished with an open floor plan, featuring a gourmet kitchen with top-of-the-line appliances and finishes. The master bedroom is extra large, probably larger than certain blogger's entire apartments.
One of the rooms, which realtor Joel Cavasso calls the "bonus room," has a huge pirate-ship play area. The pirate ship is actually a kid's bed—it looks like it can sleep several children—and has a captain's wheel and operational lights.
Outside, in the pool area, you'll find a spa and a huge outdoor gazebo with a full kitchen, including a pizza oven. If you don't want to spend time at the pool, the home is right across the street from Lanikai Beach.
This home will be open on Sunday, Oct. 18, from 2 to 5 p.m. Click here for details.
Happy house hunting!
Money talk: $4,450,000 fee simple
MLS#: 201512471
Contact: Joel Cavasso, Elite Pacific Properties, 216-9988, joelcavasso@me.com or jenholmes@elitepacific.com