Open House Pick of the Week: Live on the Edge of Kaka'ako With a City View
A nice two-bedroom condo near Kaka'ako.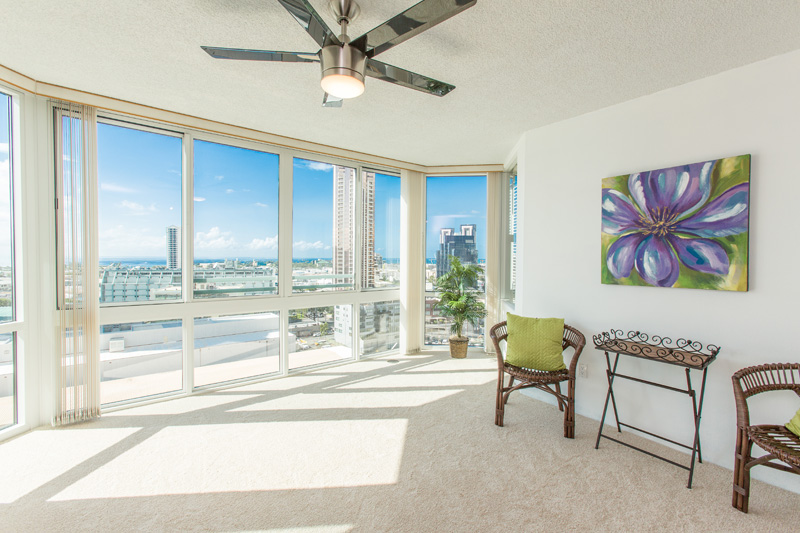 Photos: Courtesy of Better Homes and Gardens Real Estate Advantage Realty
With all the construction going on, it's hard to find a nice, two-bedroom condo in or near Kaka'ako in the mid-$500,000 range—especially if you want a view. This week's open house pick is one of those rare properties. (Disclosure: It is listed by fellow blogger Jaymes Song.)
Unit 1603 in One Archer Lane is on a high floor, so it clears Hawaiian Electric's buildings for a nice, ocean view. In fact, the two-bedroom, two-bathroom unit has views (ocean or city) from every room.
"The most unusual thing about this unit is that it comes with a supersize parking stall that would make a Costco stall jealous," says Song. "It's almost impossible to get a door ding, even if you have a big SUV." As a condo dweller myself, I know that most condominium garages have the tiniest stalls, so this is really a plus, especially if you have to swing the door wide open for a stroller or wheelchair.
The current owner has added a lot of upgrades to the unit, which includes new paint, new carpet, and new Corian counters. With all the vog and humidity we've been having in the past year, the central air conditioning is a nice touch, as well.
One Archer Lane is a pet-friendly building with 24-hour security and a high owner-occupancy rate. Amenities include barbecue, pool, Jacuzzi and guest parking. It's also conveniently close to downtown, the Ward area and the Blaisdell.This unit will be open on Sunday, Jan. 31, from 2 to 5 p.m. Click here for details.
Happy house hunting!
Money talk: $553,000 fee simple
MLS#: 201522982
Contact: Jaymes Song, Better Homes & Gardens Real Estate Advantage Realty, 228-3332, jaymess@betterhawaii.com
Got a suggestion for our real estate blog? Know of a fabulous open house? Fascinating story? We want to know. Shoot us an email at realestate@honolulumagazine.com