Open House Pick of the Week: Every Day is a Vacation at this Portlock Home
A unique property renovated by a craftsman.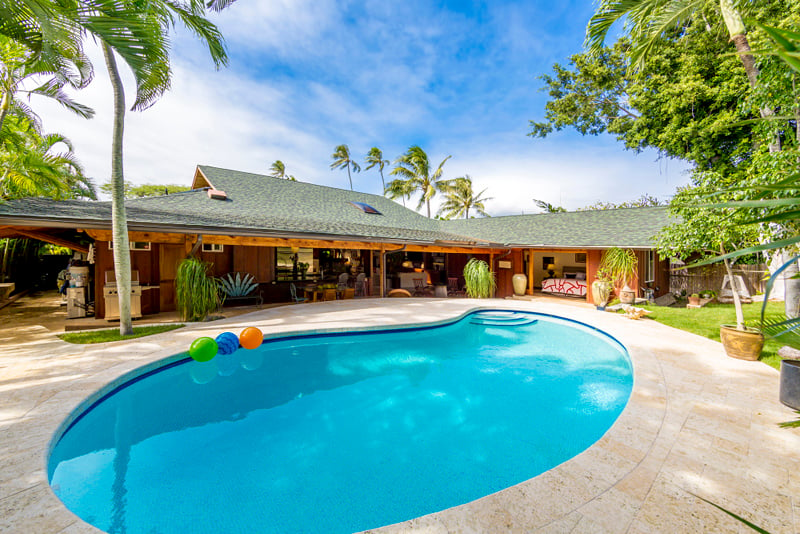 Photos: Sachi Hawai'i Pacific Century Properties
In a time when we see a lot of McMansions in high-end neighborhoods, it's refreshing to see luxury homes with unique designs and craftsmanship. This week's open-house pick has a very warm, kama'āina-style feeling due to the extensive use of wood throughout the residence, something you don't see a lot anymore (especially not on O'ahu).
Built in 1949, the 5,094-square-foot home has been renovated and upgraded by the owner himself, a 13th-generation craftsman. The high, vaulted ceilings and skylights with a very open design create a sense of majestic spaciousness that you might find in a resort.
The versatile floor plan offers private wings with separate entrances, which you might expect from a home this big. There are six bedrooms and five bathrooms, including a one-bedroom loft. The floor plan blends indoor and outdoor living so that the interior flows to a large, covered lānai that opens to tropical, landscaped gardens, backyard swimming pool—this layout enables you to cook in the kitchen while talking to friends in the living room and watching the kids in the pool at the same time.
It was designed with entertaining in mind; the gourmet kitchen has granite countertops, stainless steel appliances, a propane stove, a dryer and a built-in coffee machine. You can also store your wine collection in the 400-bottle refrigerated wine room. Your guests can park in the oversize garage made for multiple cars and a large boat and trailer.
The property also comes with a 15-camera, three-monitor video security system.
This home will be open on Sunday, Jan. 24, from 2 to 5 p.m. Click here for more information.
Happy house hunting!
Money talk: $2,795,000 fee simple
MLS#: 201522135
Contact: Peter Fithian Jr., Sachi Hawai'i Pacific Century Properties, 551-8882, hale.fithian@icloud.com, Emi Fritz, Sachi Hawai'i Pacific Century Properties, 721-7566, emi@sachihawaii.com
Got a suggestion for our real estate blog? Know of a fabulous open house? Fascinating story? We want to know. Shoot us an email at realestate@honolulumagazine.com