Open House Pick of the Week: Classic Kailua Home Designed by Vladimir Ossipoff
Here's your chance to own a remodeled home designed by the famed Hawai'i architect.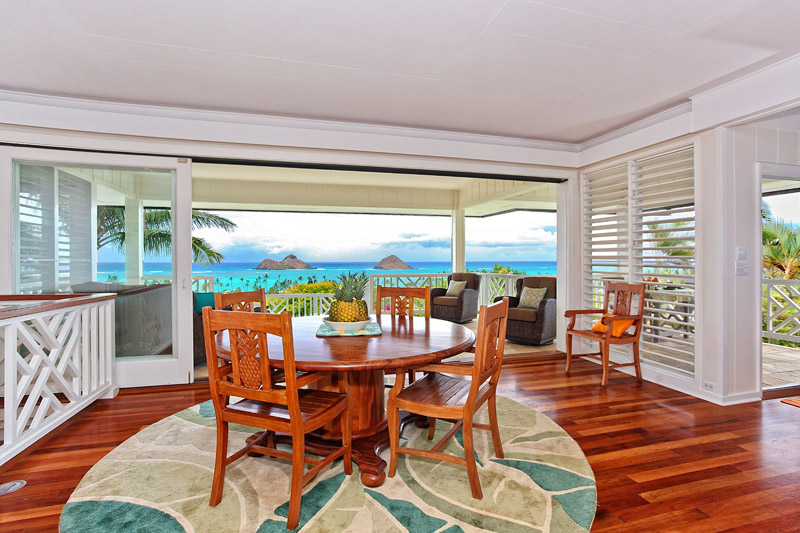 There's nothing like a classic house design from architect Vladimir Ossipoff, but not too many people get to actually own a home that he created. This weekend, a home in Kailua is available with his original design specifics maintained.
Built in 1959, this home was carefully remodeled in 2001 to bring it up to date. There are three bedrooms and four bathrooms in 2,109 square feet of living area. But wait, there's more—it has another 1,149 square feet of lānai, the garage is 420 square feet, and the lot is 9,375 square feet.
To emphasize the space, the home's floor plan is open but functional. Solid wood-and-glass stack doors open up the entire main living area, so you get an unobstructed, 180-degree view of the ocean and out to the Mokulua Islands.
About that lānai: It's covered, so it feels like indoor/outdoor living. The crystal-fragmented granite floor gives it a bit of casual elegance, too.
The huge master bedroom has an equally large bathroom, including an etched glass wall depicting a tropical forest design separating the two. There is an area located just off the master suite that can be used as a nursery or home office.
The kitchen features New Zealand Greenstone counter tops complemented with old wood koa trim, and a solid koa wood bar.
This home will be open from 2 to 5 p.m. on Sunday, May 24. Click here for details.
Happy house hunting!
Money talk: $2,995,500 fee simple
MLS# 201507599
Contact: Donna Kohls, KBay Properties, LLC, 808-291-6565, donna@kbayproperties.com