Open House Pick of the Week: A Classic Family-Built Home in Hau'ula
This house has three bedrooms, two bathrooms and a den.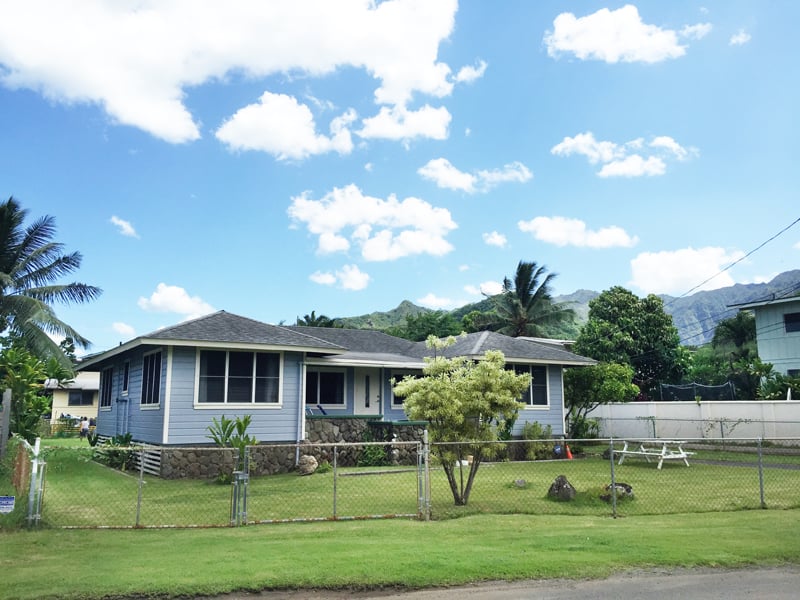 Photos: Courtesy of Better Homes and Gardens Real Estate Advantage Realty
This week's open-house pick is pretty special, since it's rare to find houses in Hawai'i like it anymore—especially in such good condition.
Located in Hau'ula, this property has been in the seller's family for five generations. Her father built the house from the ground up in the 1950s when she was five, and it took two years to complete.
"We had to mix the concrete and mortar by hand. We used rocks from the nearby stream and sand from the beach to build the rock wall," Iris Furuto recalls. "My father was ahead of his time; he had us kids dig the trench for underground wiring. Later, when we were older, that foresight enabled us to use the yard for activities like organized volleyball games. He really thought ahead, as he was building it with us in mind."
The home is raised for a few reasons: One, to keep the house safe in case of flooding; two, to make it easy to pick up and move the entire house if they wanted, which was something people did in that era.
Furuto says no electric saws were used in building the redwood home, so every curve and edge is custom-done. People who understand construction immediately see the intricately hand-cut, arched doorways and pass-throughs, something you normally don't see in modern homes.
"Hopefully the new owner will appreciate the work that went into building this home, and continue to preserve it as we have," Furuto says.
The house is 1,724 square feet, comprising three bedrooms, two bathrooms and a den. It sits on an 11,109-square-foot lot, so there's room to expand the existing home or build an additional one.
This home will be open from 2 to 5 p.m. on Sunday, Oct.11. Click here for details.
Happy house hunting!
Money talk: $729,000 fee simple
MLS#: 201518345
Contact: Eathan Ozawa, Better Homes & Gardens Real Estate Advantage Realty, 721-2541, eathano@betterhawaii.com
Got a suggestion for our real estate blog? Know of a fabulous open house? Fascinating story? We want to know. Shoot us an email at realestate@honolulumagazine.com