Open House Pick of the Week: A 1960s Home With a Modern Look in Wai'alae Iki
This renovated home is anything but retro.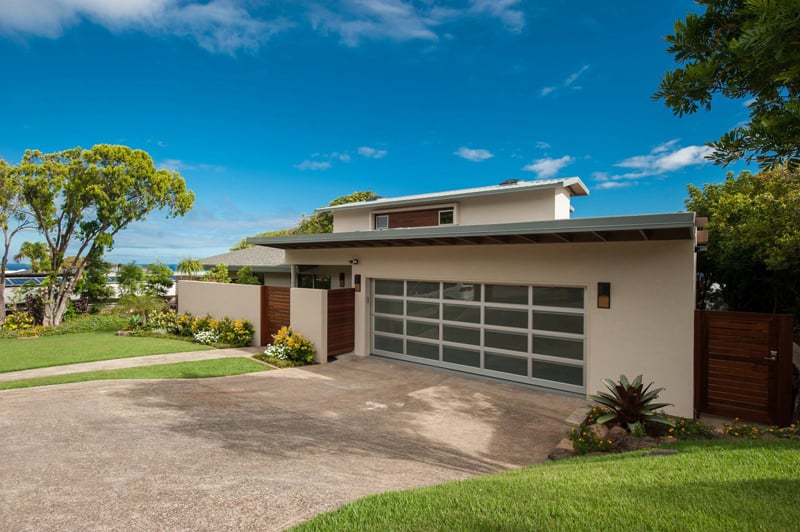 Photo: Courtesy of Coldwell Banker Pacific Properties
I've noticed that, back in the 1950s, '60s, maybe even '70s, local people who built homes here tended to exude more simple, humble classiness even if they were well-to-do. You didn't see as many McMansions as you do today, with garish front gates and ostentatious facades that were designed to make a statement.
This week's open house pick was built in 1964, so the understated design is a throwback to that era—but it's anything but retro. When you see it from the outside, it looks pretty simple and straightforward; it's a two-story home on an 8,553 square foot lot. It's on Wai'alae Iki, so you know it's going to be nice.
Inside, the 3,148-square-foot home is completely renovated with a very modern look. The focal point is the center feature staircase with glass railings, which provides a visual break in the flowing, open floor plan and vaulted ceilings without interrupting the view.
There are five bedroom suites and five bathrooms—the private master suite is huge, with a chic, Island-style bathroom. All living areas open onto lānais so you can enjoy indoor-outdoor living; the ocean views, in fact, can be seen from almost every room in the house.
The kitchen features a large island with counter seating for casual dining, although you can opt to eat in the dining room right next to it.
This home will be open from 2 to 5 p.m. on Sunday, July 26. Click here for details.
Happy house hunting!
Money talk: $2,350,000 fee simple
MLS#: 201512119
Contact: Tracy Allen, Coldwell Banker Pacific Properties, 593-6415, tracya@cbpacific.com
Got a suggestion for our real estate blog? Know of a fabulous open house? Fascinating story? We want to know. Shoot us an email at realestate@honolulumagazine.com