One-Stop Shopping Ease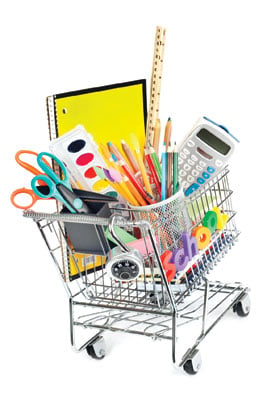 Back to School Shopping
As a kid, the new school year was always marked with fun back-to-school shopping with my parents. It was thrilling to get new school supplies—notebooks, pencils, folders, rulers, glue, etc.—even a brand-new backpack and shiny new lunchbox were on the list.
Today, as a parent, this time is marked with a little anxiety and a very long to-do list, with back-to-school shopping at the top.
Convenience and affordability are essential to making back-to-school shopping an enjoyable experience. As public schools prepare their "Recommended School-Supply Lists" for the new school year, parents will be tasked to fill the many requests. Everything from an apron, baby wipes, backpacks, binders and colored markers to felt-tip pens, scissors and a recorder make up the 40+ "recommended" items.
Fortunately, Fisher Hawaii provides one-stop shopping convenience for parents gearing up for back-to-school shopping. Not only does it have everything on the recommended school-supply list, it has everything a family would need when stocking up on learning essentials, arts and crafts supplies, gift wrapping, home and office supplies, equipment and much more.
Fisher Hawaii prides itself on great customer service and having the largest in-stock selection at the guaranteed lowest prices. "If you find a product we sell cheaper somewhere else, we will match their price," says Al Hirata, vice president general manager of Fisher Hawaii. Fisher Hawaii was the first in Hawaii to offer the "warehouse direct to you."
Fisher Hawaii has two locations: the main store at 450 Cooke St. and the downtown location at 1072 Fort Street Mall. For the latest deals, visit fisherhawaii.biz.
Click here to download a couponto get school supplies for as little as 25 cents!