Oahu Urban Garden Center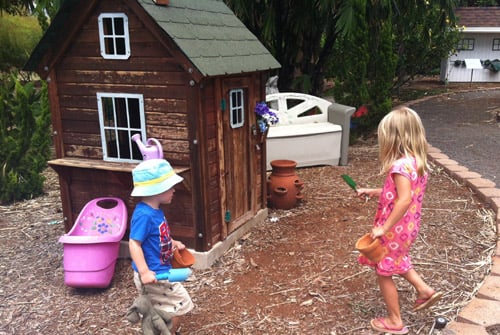 **2014 Update: On our last visit, the kid-size houses were locked. Watch for the pizza garden in a new location across from the Butterfly Garden. The space was still a lot of fun for the families. Make sure to visit the gazebo for books and activities for young ones.
I have to admit, I never knew how much fun could be had in a garden. When we headed out for the Oahu Urban Garden Center in Pearl City, I figured we'd check out a few plants and be on our way. I had no idea that this horticultural center was such a huge, beautiful, educational space perfect for exploring with the family—and it's free.
Every second Saturday of the month, they host a public event with tours, interactive info booths, and a plant sale, but we headed straight for the Children's Garden. There's literally something new around every corner. With lots of paths to walk, tunnels to climb through, colorful animal structures to find, and kid-sized houses to play in, the Children's Garden is actually more like an all-natural playground.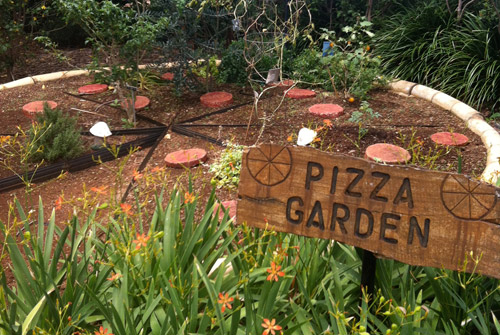 My kids loved entering under the rainbow structure entrance, and exploring areas like the Hawaiian alphabet tree garden, the Butterfly garden, the Caterpillar tunnel, and the Alika Rabbit garden. We spent a lot of time at the House garden, where the kids played in a miniature "Tutu's house." But their absolute favorite was the Pizza Garden, a round garden shaped exactly like, you guessed it, a giant pizza, complete with recycled stone pepperonis and sprouts of tomatoes, chives, green onions, chili peppers, and other toppings.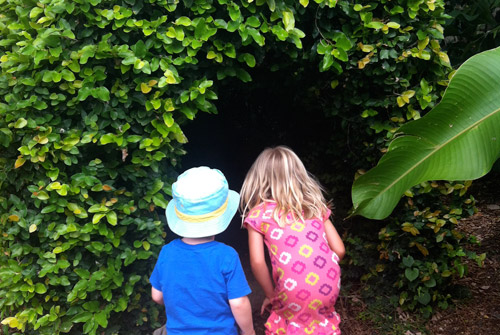 We spent about 45 minutes there and still didn't get to see everything. We'll have to check out the Sundial Garden, labyrinth and maze garden next time. Just when I thought the kids were ready to leave, they discovered a bin full of toy garden tools and actually got down into the ground to get their hands dirty, which is what gardening is all about. And I have to say, I was pleasantly surprised about how much I enjoyed it myself. So indeed, it turns out that gardens are fun. I can dig that.
Oahu Urban Garden Center, 955 Kamehameha Hwy, Pearl City. Free admission. Open Mon through Fri 9 a.m. to 2 p.m. and on second Saturdays of the month. For more info call 453-6050 or visit http://www.ctahr.hawaii.edu/ougc/index.asp.