"O" Cookies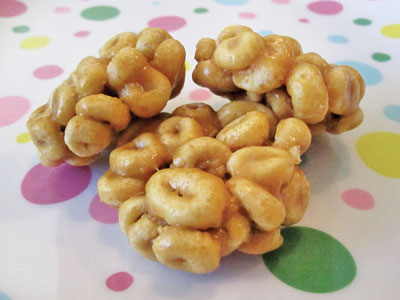 A crunchy-sweet no-bake cookie
Ingredients:
0 c (Cup) nut butter (almond, peanut or sunflower)
0 c (Cup) rice syrup
4 c (Cup) O's cereal (you can use whatever "O"-type cereal you like)
Instructions:
1. Place the nut butter and rice syrup in a small saucepan over lowto medium heat and warm for 2 minutes or until it becomes smooth and combined.
2. Place the cereal in a bowl.
3. Pour the warm nut butter and rice syrup mixture into the bowl with the cereal. Stir to combine.
4. Shape into cookies (a mini ice cream scooper or tablespoon will
work). You can also place the mixture into a 9-by-9 inch ungreased pan, pat down and then cut into bars. As the O's mixture cools, it will harden.
Photo: weelicious.com
Preptime: 15
Source: Catherine McCord