Number crunching: July 2013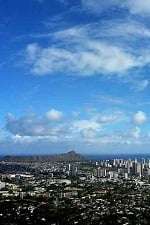 Strong sales of Oahu homes continued through July, according to the latest market figures from the Honolulu Board of Realtors.
Sales prices for both single-family homes and condominums showed gains over July 2012, and the homes were reselling more than a week faster than they did last year, according to the report released today.
Last month, 290 single-family homes were resold at a median price of $647,500. That's a 9.4 percent increase in sales and a 2 percent increase in price. Almost all homes—99.9 percent—were sold at least for the asking price.
Meanwhile, condominiums showed even bigger increases—up 17 percent to 426 sales in July, and an 8 percent median price increase to $345,000. Ninety-nine percent of sellers received their asking prices.
The higher prices didn't scare away buyers, according to the median days on the market. In July 2012, single-family homes were on the market for about 25 days, and single family homes sold at roughly 29 days. Last month, single family homes were on the market for 17 days and condos for 20.
"Realtors are reporting that properties are selling quickly, making it more important than ever for buyers to be prepared by being pre-qualified for a loan, so when they are ready to make a purchase, they can act fast," said Kevin Miyama, president of the Honolulu Board of Realtors, in the market figures release.
"With the median sales prices rising compared to this time last year, especially for condominiums, on-the-fence sellers should consider listing their properties now to take advantage of the shortage of inventory on the market," he added.
Visit the Honolulu Board of Realtors website at hicentral.com for more detailed statistics.