Noodle Tuesday: Pho To-Chau
This traditional hole-in-the-wall downtown offers "food first. Everything else second."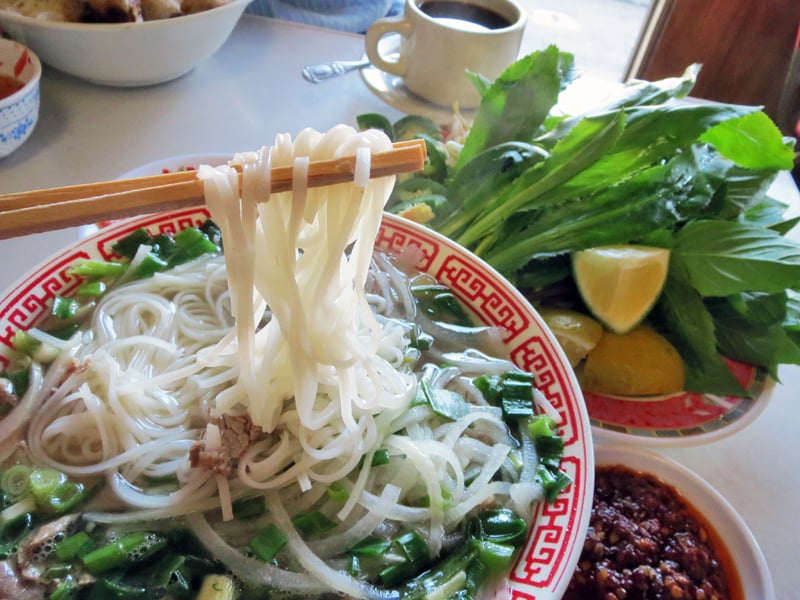 Nestled between two other pho restaurants in the little Vietnam on lower River Street, Pho To-Chau is something of an institution, famous for the line of customers out the door at all times of day. With traditional eateries like this one now taking a backseat to the whizz-bang newcomers to Honolulu's food scene, we thought it was time to revisit a classic.
Pho To-Chau, with its light, airy space, can't quite be called a dive, but the hole-in-the-wall ethos reigns supreme here: "Food first. Everything else second." So let's get this out of the way: parking's a pain, though there's a municipal lot with wee leprechaun-sized spaces around the corner. The unisex bathroom—well, it's unisex and maybe not cleaned every 90 minutes. And the wait staff won't become your new best friend, though they are conscientious and polite, and have fantastic memories for complicated orders.
The food itself? It's not crafted with Instagram or Facebook in mind. But sometimes, it's enough to make the food for the people who are eating it.
The bowl of pho arrives steaming, with a consommé-clear and deeply flavored broth, laced with star anise and other spices. The rice noodles, so hard to get right, provide a chewy, delicately flavored backdrop to slivers of beef, rare and cooked. And it's accompanied by a heaping platter of fresh herbs and lime wedges. I have never seen anybody get through all of these, but maybe I haven't looked hard enough.
Here's the pho procedure: You tear up as many herbs (Thai basil and the sword-shaped leaves of the Southeast Asian herb ngo gai—flavorwise, think cilantro on steroids) as you can handle. Sprinkle the herb fragments and some beansprouts into the broth so that every chopstick-full brings up a medley of noodles, meat, and veggies. Squeeze a wedge or two of lime over all (plus Sriracha and chili paste if you like the hot stuff). Then go for it. After you're done with the noodles, pick up the bowl and slurp if you want. Nobody's looking.
If you're extra hungry, order a side of Vietnamese spring rolls (cha gio), as I saw almost every other table doing. When they're done well, every bite crunches through a do-it-yourself cradle of lettuce, mint and cucumber and a delicate wrap of fried Vietnamese rice paper on its way to the meat, crab, shrimp and mushroom within (there's a vegetarian version too). Pho To-Chau's rolls were very good, and used authentic cha gio wraps, which are harder to work with but produce that distinctive bubbly, crunchy surface that helps the dipping sauce cling to it.
In Vietnam, pho is a beloved breakfast food. It's supposed to be wolfed down in five minutes or less, before the texture of the rice noodles can begin to change. I savored mine for a bit longer than that. Not sorry.
Though prices have risen over the years, everything on the menu is under $10.
Pho To-Chau, 1007 River St. Opening hours: Daily 8:30 a.m.-2:30 p.m.