News Flash: Top Chef contender Sheldon Simeon to stage at Vintage Cave Honolulu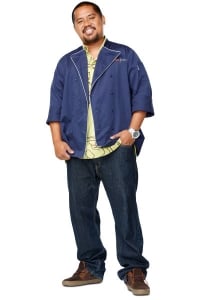 Maui's Sheldon Simeon is holding his own as one of nine contestants left on Top Chef Seattle (Wednesdays, Bravo)—last week his ahi summer roll with strawberries and sweet chili sauce kept him alive. And last week he also tied up a stage at Vintage Cave Honolulu for January. According to Vintage Cave executive chef Chris Kajioka, Simeon will head to Oahu for a multiweek stage at the city's newest hotspot (at least for those who are committed to good food cooked at the highest level). A stage, or unpaid internship, allows a kitchen to gain some skilled slave labor while at the same time the slave can fill in knowledge gaps and add new skills to the repertoire. It's a culinary win-win.
Lesa Griffith is writing guest posts for Biting Commentary while dining editor Martha Cheng is on vacation.