New Thrills at Dave & Buster's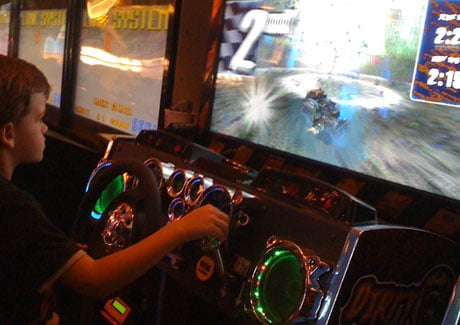 Dave & Buster's just rolled out some new games for the summer, and getting my 12-year-old niece and 6-year-old son to check them out with me couldn't have been easier. While Dave & Buster's markets to adults, kids and teens still make up the majority of customers to its second-floor midway. For me, this was a treat. My son has finally graduated from Chuck-E-Cheese's to play with the big kids—and, mom can now join in the fun.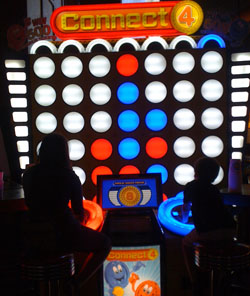 The new games are spread throughout the midway, but are not difficult to find with its large sizes and poster displays. "Connect 4", for instance, can be seen a mile away with its large blue and red circles. The game, intuitively enough, is just like its smaller-counterpart. Connect four dots and win.
My niece's favorite game was "Speed of Light" and was, perhaps, the most engaging game in the midway. Two opponents stand in front of a wall of buttons and each player must hit the lit buttons as fast as they can before time runs out. Whoever hits the most wins. While my son struggled with this game—possibly because of his size—he still had fun.
"Quad Air Hockey" was the all-around favorite. As the name implies, this air-hockey table allows up to four players. With four players comes four hockey pucks, making for an insanely fun and competitive game for all ages. After four games of addictive air hockey, I watched as both kids moved on to "Dirty Drivin'", a racing game that my niece said she "liked more than other car games" because of its unique racetracks. My son also did surprisingly well on the track, maneuvering in and out of obstacles like a pro… (I'm still trying to solve that one).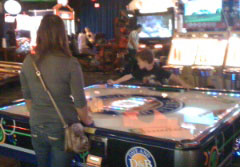 Not able to keep up with the kids, I sat down and ordered a couple new menu items: the very tasty kid-tested-and-approved pretzel dogs and the South Philly burger, a half pound burger topped with South Philly steak. While I was expecting the burger to be an over-abundance of meat, I found that the thinly sliced steak actually complemented the burger in a good way.
Dave & Buster's, 1030 Auahi St., Honolulu, 589-2215. daveandbusters.com/honolulu/