New Shoe Store in Honolulu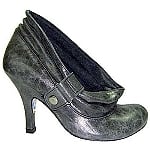 Shoe-loving sibs Darcie Pulawa and Benji Pulawa, along with business partner Arlynn Orpilla, wanted to bring edgy, fashion-forward shoe shopping to the Islands. So in November, they opened MyDeuces.com, a Web site offering stylish shoes via the Web, similar to Zappos.com. The beauty of it isn't just in the slick styles–Hawaii residents receive free shipping, too.
But talk about going from zero to sixty, because by December, the team had also opened a brick-and-mortar shoe store, Deuces Hawaii, at Ward Centre. The street-inspired décor at the 742-square-foot-store was whipped up in just a few weeks, says Darcie Pulawa.
Look for canvas boots, trendy sneakers and rockin' heels, and brands like Poetic License, Irregular Choice and Luichini. "I like funky, crazy colors," says Pulawa, and "furniture inspired" styles.
The store offers women's shoes in sizes 5 to 15, says Pulawa, and men's shoes in sizes 8 to 15. "We have wide sizes, too," adds Pulawa. The styles are surprisingly affordable, with the price tags averaging from around $30 to $150.
Of course, there are plenty of sandals, too. "We cater to the Hawaii consumer," says Pulawa.
Ward Centre, 593-9055.