New on Maui: Monkeypod Kitchen by Peter Merriman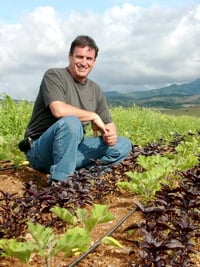 Chef Peter Merriman has opened three new restaurants in the last 30 months.
First there was Merriman's Kapalua, out on the point of Maui's Kapalua Bay. Then Merriman's Fish House and Market Café in Poipu, Kauai.
The latest: Monkeypod Café by Peter Merriman in Wailea, Maui, scheduled to open Feb. 11.
"Every 10 months is a pretty good pace," says Merriman. "If I'd started earlier, I'd have 60 restaurants by now." In fact, Merriman now has five, including his two Big Island restaurants, Market Cafe in Waikoloa and the original Merriman's in Waimea.
Monkeypod Café is a partnership between Merriman and Bill Terry and Amber Thibaut, the daughter and son-in-law of the late TS Restaurants founder Rob Thibaut. Merriman is also a partner in TS Restaurants' Hula Grill in Kaanapali.
Merriman has been a locavore since 1988, long before it was fashionable. Starting with his original Waimea restaurant, he's encouraged and supported local farmers, ranchers and fishermen.
So, of course, the ingredients at Monkeypod Café will be locally sourced and socially conscious: range-fed Maui beef, farm-to-table produce and sustainably caught fish.
Still, the menu is designed to be casual and approachable, like the fish tacos (above left). The restaurant will even make its own hamburger buns and pizza dough. "Handcrafted food," promises Merriman. "Not pricey, just good."
There will be 36 beers, all on tap, delivered at 29 degrees by what Merriman calls "a super-expensive delivery system." The good news: "No bottles except for wine. We're not going to clog up the landfill."
New at Monkeypod: The emphasis on fun. "You know what I think it's really gonna be?" said Merriman. "A real groovy bar. One with good food."
Monkeypod Kitchen, Wailea Gateway Center, Wailea, Maui, monkeypodkitchen.com. For other Merriman restaurants: merrimanshawaii.com