NEW on Maui: Gannon's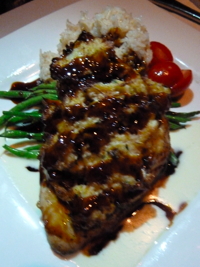 It's not like Bev Gannon isn't already famous. Two nationally published cookbooks. A long list of awards. One restaurant, Haliimaile General Store, that's now a 20-year-old Maui classic. Another successful restaurant, Joe's, that's dedicated to the comfort food her husband likes. One of Maui's most successful catering companies, Celebration.
But Bev can't stop working, so last year she took over Seawatch and turned it into Gannon's.
You may have eaten at Seawatch—a nice spot in the luxurious clubhouse of the Wailea Emerald and Gold Golf Courses, with a sweeping view of the Pacific. The trouble with Seawatch was that it was kind of perfunctory restaurant, not terrible, but nothing to write home about either.
The Gannons have turned it into a sophisticated eatery. Joe Gannon did theatrical lighting and production for everyone from the Kingston Trio to Alice Cooper. The man can light a restaurant. The place is worth a stop just to see its Red Bar, decor done almost entirely with lighting effects.
But that would miss the point. You may want to grab a terrace table and eat.
Bev Gannon has over the last 20 years become a more and more powerful chef, but the Haliimaile menu is so packed with many people's favorites that every time she tries to change it, protests erupt.
"This restaurant is great because I can do some new things," she says.
One thing hasn't changed. No one walks away from a Bev Gannon entree hungry.
My friend and I forgot that at our last dinner. Not really forgot, but the entree list sounded so good, we ordered three, one to split as an appetizer.
The "appetizer" was a serious fillet of fresh mahimahi (above), crusted with crab, the crab drizzled with a sweet soy lemon sauce (sort of a sophisticated teriyaki) and the whole fillet sitting on a bed of haricot verte and more lemon butter sauce. We devoured it.
Then the real entrees: a classic veal chop, covered with a more-or-less traditional Portobello demi sauce, hit with Jack Daniels whiskey, served with a Tuscan white bean puree. We devoured this, too, even though the chop must have been at least 10 ounces, maybe 12, rich with lipids and wondrous with the demi sauce, all of which we scooped up.
Plus, one of Bev's remarkable new dishes, created originally for a wedding in which the couple was Indian. It's a lamb loin, quite a bit of it, with Tandoori spices (I'm guessing here, but ginger, garlic, coriander, cumin, cayenne).
This was one of the best things I'd tasted in a long time, served over Israeli couscous with bits of dried fruit, just to balance the spice with understated sweetness. This was so deftly spiced that it played nicely with the bottle of pinot noir we ordered.
You wouldn't think we could eat dessert after all that, but we managed to split a vanilla ice cream cake with sour cherries. What a meal.
Entrees range from the $30s to the $40s, but it's Maui, remember, and an entree here is serious business.
Gannon's, 100 Wailea Golf Club Dr., Wailea, (808) 875-8080, website.