New: Kids Can Feed Koi at Ala Moana Center
The colorful fish have been a keiki favorite for years. But now, you can feed them three times a day.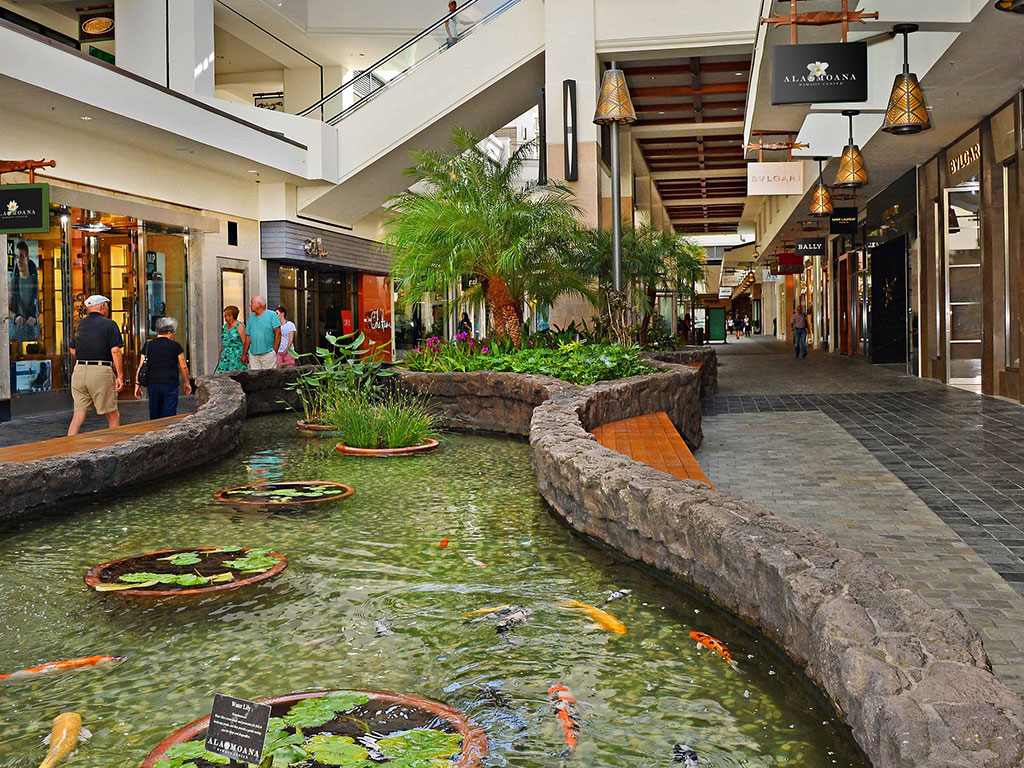 Photo: Courtesy of Ala Moana Center
Watching the koi has been one of the favorite kid activities at Ala Moana Center for decades. Every day, you'll find families on the benches surrounding the ponds to gaze at the colorful fish swimming by signs that tell us not to feed or touch them. But now, for the first time ever, keiki will have the chance to interact with them in a new way.
Joining the free fish feeding is simple. Just show up at 10 a.m. in the 'Ewa Wing, or at 10:30 a.m. or 4 p.m. at the ponds in the Diamond Head Wing, and youʻll receive a little cup with the pellets. The food is imported from Japan and is supposed to keep the scales healthy and shiny. Kids can sprinkle it on the water and watch the koi swarm in to eat. Make sure to arrive on time. The mall says the food will be given out right when the feeding starts. There is also a set amount that will be distributed first come, first served.
Add to that the cool play area surrounded by benches, giant rainbow cotton candy and the state's only Disney Store (where kids can help open the store every morning with a key ceremony) and we're glad to see the mall getting even more family friendly.
The ponds hold 42 koi, 16 varieties between the ages of 2 and 30 years old. Here are a few other fast facts from Ala Moana Center.
Koi live an average of 40 to 80 years.
Coins can harm the fish. Metal can affect the koi, making it difficult for them to breath.
The lilies are not just for decoration. The shade helps keep the koi from getting sunburned.
Ala Moana Center, 1450 Ala Moana Blvd. (808) 955-9517, alamoanacenter.com