New Honolulu Museum of Art Exhibition: Art Deco in Paradise
Think you know your local art? A new Honolulu Museum of Art exhibition may surprise you. Turns out that, in the years between the World Wars, Hawaii was a hotbed of modernist art.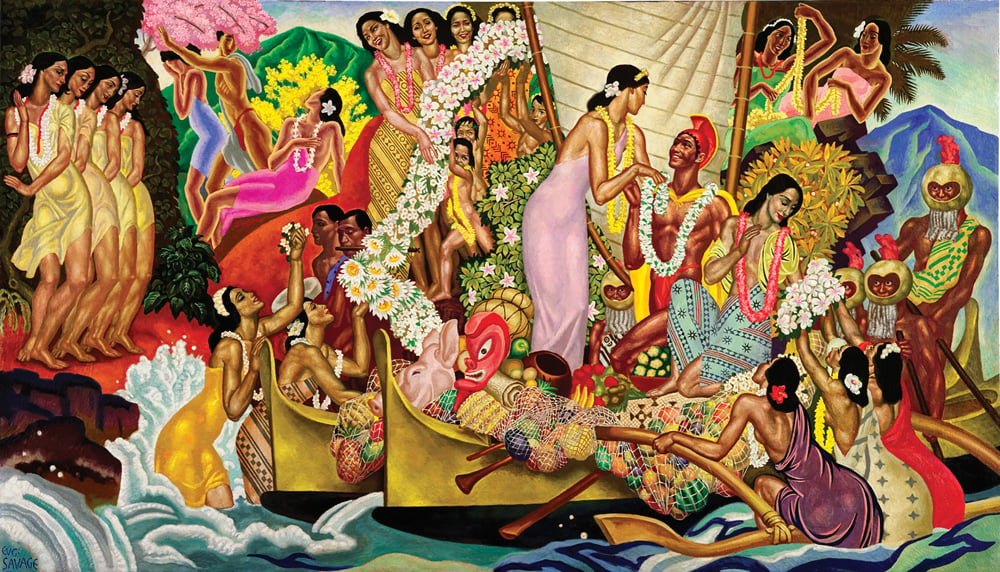 Fritz Abplanalp's "The Offering (Hawaiian Dancer)," circa 1941.
Art Deco Image: Courtesy Honolulu Museum of Art
When art deco became a global sensation in the 1920s, it was all about mixing modernism with romanticism. Combining bright colors and nostalgic subject matter with clean, abstracted lines and shapes was exciting, and the new aesthetic quickly became ubiquitous. Soon, art deco was showing up worldwide, in paintings, architecture and even advertising.
Hawaii was no exception. In the early 20th century, the Islands were increasingly being sold as the perfect tourist destination—romantic, yes, modern, yes—and art deco became a perfect lens to magnify Hawaii's charms to a worldwide audience.
But, wait … Hawaiian art deco? If you've never thought about Hawaii being a hub of art deco style, don't worry, you're not the only one.
"It's really uncharted territory," says Honolulu Museum of Art curator Theresa Papanikolas, who this month opens a large exhibition of art deco paintings, sculptures and ephemera created in Hawaii in the years between the two world wars. "The artists in the show are big names, but they're big names in the way that, you might recognize their work individually, but they've never really been considered in a larger context."
Madge Tennent? Juliette May Fraser? Arman Manookian? All art deco. Papanikolas spent more than three years assembling this exhibition, and the resulting collection makes a strong case that, while the Islands have long been considered an artistic backwater, aping the "real" modernist artists on the Mainland, Hawaii actually made the art deco aesthetic its own, creating a unique and vital vein of artwork.
The new exhibition isn't just pretty pictures. Looking with our modern 21st century sensibilities, it quickly becomes apparent that the beautiful paradise depicted in these paintings wasn't everyone's ideal world. "Because art deco was so malleable, you could use it to say whatever you wanted," Papanikolas says. "There's historicism there, but it's distorted and filtered through these Western romantic ideas."
Still, Hawaii's art deco's influence is undeniable, and Papanikolas says the political and cultural subtexts of the art only make it more interesting. "I hope people will see their surroundings, the built environment around them, with new eyes," she says. "Once you start looking for art deco, you'll start seeing it everywhere."
Art Deco About Town
You don't have to visit the Honolulu Museum of Art to see great examples of local art deco. Just look up.
In addition to paintings, sculptures and other artistic media, art deco became a popular style for architecture, both on the Mainland and in Hawaii. Some of the most notable examples that can be found around Honolulu: the Alexander & Baldwin Building, designed by C.W. Dickey; the S. & G. Gump Co. building (now the Waikiki Louis Vuitton), designed by Hart Wood; and the Central Fire Station, designed by Dickey and engineer John Young.

How is your art deco eye? Take our quiz to find out.
Art Deco in Hawaii
This exhibition opens at the Honolulu Museum of Art on July 3 and runs through January 11, 2015. 900 S. Beretania St., 532-8700, honolulumuseum.org.