New Downtown Bento: Umami Cafe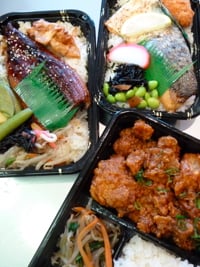 It bills itself as a Japanese coffee bar.
Really, Umami Café is Honolulu's fanciest bento parlor.
Gokujo Sushi (outlets at Marukai Dillingham and Ward) was looking for a commercial kitchen.
This space, in the lobby of downtown's Harbor Court, came with a cafe attached.
Hence, the new Umami Café.
"It was Satura Cakes before," says manager Andi Pak. "We hardly had to do anything to it. They did it the interior quite nice."
Nice indeed. This is a place you can eat a $4.99 bento in the glassed-in dining room where Satura used to hold wedding cake consultations (left). There's still a mocked-up wedding cake in the corner, and a big screen TV playing the Food Network.
The food? The bentos pour out at lunchtime, still warm, well lukewarm, but still lively.
There's central proteins like a large slice of flavorful and tender unagi, served over rice, of course, with a gyoza, hajiki, sugar snap peas, all for $6.75.
Crunchy panko'd Korean chicken tossed in hot-sweet sauce, with a simmered bean sprouts and carrots, hajiki, and an ume in the middle of the rice, $4.99.
Best of all, the slab of fresh salmon that just came out warm of the kitchen, with edamame and a fish cake croquette, $5.49.
As downtown lunch goes, this is fast, easy, cheap and good. Not just good for something you can pick up for less than $7 and eat at your desk, but actually good enough to eat.
Umami Café is also a real coffee bar, in that you can get espressos and choose from a display case full of pastries, including a strawberry shortcake that looked great, but we were too full to eat.
Umami Café, weekdays 6:30 a.m.-2:30 p.m., Harbor Court, 55 Merchant St., (808) 537-6555, www.umamicafehawaii.