New Consignment Shop in Kailua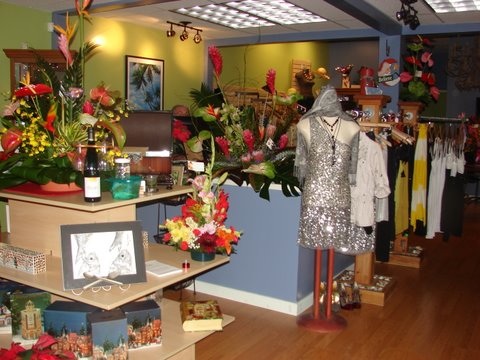 Kailua's latest boutique is like a perfect math equation: Environmentally conscious fashions + inexpensive price tags, minus parking hassles and closet clutter. Somebody give this Kailua Verde Boutique a gold star.
The new store, at 111 Hekili Street, Suite 102, has gently used and bought-but-never-worn clothing and accessories, as well as locally made art. Owner Lilian McDonnell is a Kailua resident who felt the time was right for a nicely presented consignment boutique. She has four sons, all of them eco-minded, so reusing things comes naturally to her.
She kept the environment in mind when decorating the store, trolling the Salvation Army and local boutiques that were closing down in search of her furnishing, clothing racks and even some of the merchandise. She specializes in women's and children's clothing, but has some men's stuff as well. Savvy shoppers can find deals like a brand-new Burberry suit (with its $850 price tag still on), selling for $250. You'll also find Coach bags, and designer jeans like True Religion and 7 For All Mankind, $35 to $40.
If you're looking to sell clothing on consignment, McDonnell will pay 50 percent once the item sells, or you can get 60 percent of the price in store credit instead. She examines items only by appointment, so be sure to call first (261-6190). Store hours are from 10 a.m. to 6 p.m. Monday through Saturday, and noon to 6 p.m. on Sundays.
As a grand-opening sale, McDonnell is offering 20 percent off everything in the store until Dec. 7, then 10 percent off until Christmas.