New (but old): Tanaka Saimin, Honolulu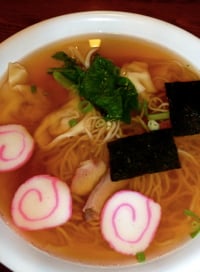 Tanaka Saimin is a classic old-style Hawaii eatery. Except it's glittering brand new.
You've never seen a saimin parlor this large, the wood-paneled walls hung with Chinese brush paintings, the booths shiny black and lit from above with trendy light fixtures.
But the food? 1959.
Joan and Paul Watanabe opened Tanaka Saimin, named after Joan's grandfather, Kazuo Tanaka, who founded Boulevard Saimin, and her parents, who ran it for 55 years.
"My parents have retired," says Joan. "They deserve it, but they helped us a lot, and they're here all the time. As a matter of fact, they're eating dinner here right now."
The original plan was to close Boulevard, but at the last moment one of Joan's sisters wanted to keep it open. "You know families," says Joan. Boulevard has since become Dillingham Saimin, but many of the original employees and all the recipes came over to the new, larger location in the refurbished Weyerhaeuser Building on Nimitz.
She and her husband are the new owners, but Joan has been serving saimin, as she puts it, ever since she could work.
The food, which is getting a slight update from Tanaka's new chef, reminds of food in Hawaii a generation ago. The saimin broth has that dried shrimp undertone and is topped the classic fishcake, nori, noodles. The fried saimin (left)is a bit underseasoned, the yakitori chicken on top glistening with heavily sugared teri-style sauce. The shrimp tempura is old local style, a puffy batter instead of panko.
The best part is how welcoming the restaurant is. Hostess Carol Crowell dropped by the table and talked us into ordering the gooey but great square slice of banana pie. "You have to try it," she said. "It's ono. I hope there's a piece left at the end of the night for me."
The food—and the reasonable prices ($5.85 for a large bowl of saimin)—must ring a bell for a lot of people. "I can't believe it. Where I used to order one case of something, I now have to order five or six," says Joan. "We're selling 1,000 bowls of saimin a day."
Tanaka isn't retro. It's the same as it ever was, just bigger and more popular than ever. "Wow, I still can't believe how busy we are. Maybe we'll slow down a little during tax season," says Joan. "But it hasn't slowed down yet."
Open daily 7 a.m.-9 p.m., 888 N. Nimitz Hwy., (808) 524-2020