New: Broadway Seafood & Oyster Bar, Honolulu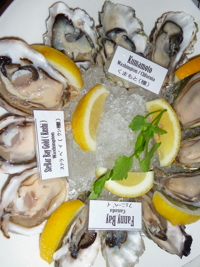 Don't let the name fool you. There's nothing New York about Broadway Seafood and Oyster Bar.
Tokyo, more. The converted ramen outlet on Keeaumoku has a nice, austere black and white look. Somewhat random and vaguely French paintings over the bar. Cool jazz on the sound system. Oshibori on the table.
A nice enough place, just not a New York raw bar.
The key here is oysters. There are 15 different types of oysters on the menu. You can order a dozen for a reasonable $30.
However, the menu says you get a "chef recommended" selection. What if you want to choose?
After some negotiation with the waitress, we realized that, of course, no restaurant can really stock 15 different kinds of fresh oysters. Supply isn't that certain.
If you will confine yourself to the six or seven kinds of oysters the restaurant actually has that evening, you can choose, apparently. At least we could by dint of persistence.
One has to praise the selection we got on a bed of ice. They were all West Coast and Canadian oysters, all labeled, each carefully shucked and prepared so that it slipped right out of the shell into your mouth.
Kumamoto from Washington: small, mild, clean-tasting, not too shellfishy, the perfect beginner's oyster.
Fanny Bay from Canada: a little more flavorful than Kumamoto, still clean-tasting, just more oyster-y.
Stellar Bay Gold from Washington: easy on the foretaste, but a nice bite of sea salt on the back end.
Goose Point from Washington: plump, real oysters with all the tastes of the ocean pouring into your mouth. Definitely not a beginner's oyster.
These we ate properly, with just a squeeze of lemon, ignoring the cocktail sauce, and drinking a Sancerre, which is the appropriate wine with oysters. (A Michel Redde from Loire, 100 percent sauvignon blanc, reasonably priced at $56 a bottle.)
If there's a problem with Broadway, it's this: Eating there is like going to a baseball game in which all the runs get scored in the first inning. The rest is just waiting for it to be over.
The oysters are great. But then what? The menu offers chowders, cooked oysters in several preparations (which makes sense for a restaurant with plenty of oysters to use up, but no sense at all after the splendors of raw).
Also all sorts of cheese and "seafood" preparations like seafood Doria and seafood curry gratin, dishes where you are not quite sure what you are eating and are heavy and gloppy after the clean direct flavors of oysters. Raw oysters, after all, are the ocean's greatest fast food.
If we'd had our wits about us, we would have ordered another dozen oysters. Instead, we had the most appealing thing on the menu, a fresh clam pasta (left), which was rife with clams and good with white wine-butter-garlic flavors, reasonably priced at $12.
Just because we couldn't resist, we also ordered the Vampire Killer. This turned out to be almost roasted garlic. The garlic cloves were, as far as I could establish, first sauteed, then packed with buttered breadcrumbs and baked in an escargot dish.
I am sure that had there been any vampires in our near vicinity, they would have dropped dead on the spot.
But since Broadway's cooks, waitstaff, customers and general ambiance seem entirely Japanese and not Transylvanian, no one even blinked.
We gave up on the Vampire Killer after a few bites. The only people it seemed likely to kill was us.
Still, an evening of Sancerre and oysters is never wasted.
Broadway Seafood & Oyster Bar, 903 Keeaumoku St., 946-1888, street parking your best bet, but a lot in back.