Neighbor island real estate: Maui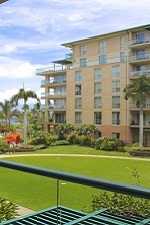 If you're looking for real estate in Hawaii and nothing on Oahu is fitting, perhaps a neighbor island might be more to your liking.
Last week, I talked with Jeremy Stice, a Maui-based real estate broker with Hawaii Life. Stice was born and raised on Maui, but he went to school on the East Coast and also lived on Oahu for three years.
In his eyes, Maui's advantage over Oahu is its smaller population, which leads to more pristine areas and less of the congestion seen in and around Honolulu. "There's a lot more green, open space. The air quality is better. You can see the stars at night pretty much across the whole island," he says. "There's a lot more places like the (Oahu) North Shore and East Honolulu on Maui."
Stice says that home sales are hot across the entire island, although different areas appeal to different types of buyers. Maui's North Shore seems more popular than it has been in the past, and West and South Maui continue to attract buyers.
"Since the second half of 2012 there's been a huge uptick in sales across the island," he notes, adding that shrinking inventory have contributed to competitive buying situations.
First-time homebuyers and families often look in Central Maui. "In Kahului, you're probably going to get the most bang for your buck," he says. You can get a nice three-bedroom home for $450,000 to $500,000, compared to $650,000 and up in the resort areas.

Second homebuyers often look to the resorts in West and South Maui, where they're close to the beach. Stice blogs about Honua Kai Resort & Spa, Kaanapali's newest resort, and he says units there are popular with Mainland and investment buyers. Read his blog here.
Other options include D.R. Horton's Traditions at Maui Lani in Kahului, which is very popular with entry-level homebuyers, Stice pointsout. Three bedrooms in that planned community start in the high $300,000s.
For upscale buyers, Stice said he recently went to a broker's open in Kapalua for a $21 million home (that breaks down to $89,670.68 a month, according to the web listing) designed by Long & Associates Architects and Interiors and built by Smith Brothers. "It was probably the finest beach house I've ever seen."
Stice added a new upscale listing in his hometown of Haiku that might be more attainable. For $1.85 million, you can get a home that might go for $4 million and up in one of the resort areas. It's a four bedroom, 3.5 bath home seated on a two acre lot with an ocean view. The video tour is stunning: