Napa Comes to Hawaii: Mustards Grill Dinner, Kahala Food & Wine Classic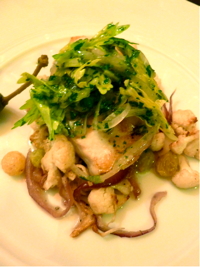 Biting Commentary has been to more than his share of visiting chef gala dinners. The results are not always stunning. You may have a great chef, but they are in an unfamiliar kitchen with unfamiliar ingredients and someone else's crew.
Not this time. It was a pleasure to have the Mustards Grill Dinner at the Kahala Food & Wine Classic last weekend. Cindy Pawlcyn's Mustards Grill helped shape Napa Valley's cuisine, and Pawlcyn brought some of her magic to Hawaii with her, through four out of five courses.
Her first course was nothing short of brilliant. Swordfish, fully cooked, yet moist, on a bed of roasted cauliflower and sweet-sour onions, topped with a salad of celery leaves and shallots. This was packed with flavors–the brightness of a vinaigrette, the slight bitterness of the celery, the sweetness of the onions and, nice touch, golden raisins soaked in the wine served with the course, a fragrant Viognier from Pride Mountain Vineyards.
The second course almost topped it. She calls it "Oysters Bingo," her variation of Oysters Rockefeller. There was a lot of nervous "I don't really eat oysters" talk around the table, but in Pawlcyn's hands, this is a dish that makes people who don't like oysters glad to eat them. Baked on a bed of spinach, topped with an aioli and Parmesan, and a lot of flavors just tickling the edge of your palate.
When she made her obligatory visiting chef's tour of the tables, I asked Pawlcyn what she did with the oysters. "It's magic," she said. But she did admit there's a little chili pepper hiding in there and perhaps some tequila.
I don't know why gala dinners like this attempt to do a risotto for 200 diners. Ours was rich with Taleggio, the mild, but tasty Italian cow's milk cheese. But it wasn't cooked all the way. A lot of the rice was still crunchy, not creamy. Biting Commentary, who's struggled with getting a risotto done for a group of people hungry at the table, sympathized.
Finally, a double lamb chop, accompanied by another rice disaster, an unchewable rice cake of some sort. Someone should have warned Pawlcyn people in Hawaii take their rice seriously.
Still lamb was a safe choice, especially since by then, Stuart Bryan of Pride Mountain, just up the hill from Pawlcyn's Napa Restaurant, had busted out the wineries 2005 reserve Napa-Sonoma cabernet, a big $125-a-bottle bruiser of a California cab, excellent with grilled lamb.
Bryan was a friendly sort who invited everyone in the room up to the hard-to-find mountain top winery. "We make red wine!" he said.
Cabernets like Pride Mountains are the wines that made Napa rich and famous. They always make Wine Spectator's list of top vintages, but in Biting Commentary's admittedly minority view, they are so big and hot and tannic you can hardly call them food friendly.
Biting Commentary liked much better the 2009 Pride Mountain chardonnay that came with the oysters, a perfectly balanced white wine from a region that tends to overdo its chardonnay in oak. "We used to," said Bryan. "Our chardonnay tasted like furniture, but we realized we liked brighter, crisper, more food friendly styles."
With dessert came another treat. Pawlcyn had the nerve not to do a traditional banquet dessert. Instead, she sent out a cheese platter with some honey-walnut stuffed dates. The cheese, especially the Maytag blue, was an extraordinary match for the Pride Mountain syrah, the bite of the blue made satisfying by the roundness of the less prestigious, but more drinkable red wine.
Pawlcyn got the last word. "I'm in Hawaii, and whoohoo, I've got the next two days off," she said, and promptly disappeared.