Napa chef Cindy Pawlcyn to cook at Kahala Hotel, Apr. 22-23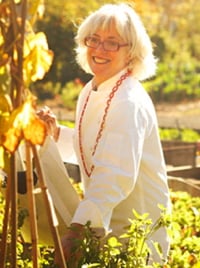 You have to love chef Cindy Pawlcyn's approach to food: "Nothing chichi. I like food that's local, garden-grown, homemade and good."
Pawlcyn (pronounced Paulson) helped kick off the Napa food renaissance in 1983 when she opened Mustards Grill in Yountville, Calif.
The menu at Mustards is headed "Deluxe Truck Stop Classics for 27 Years." It includes such dishes as "Really Good Pasta," "The Ever-Popular Seafood Tostada" and a daily Truck Stop special ("always meat, occasionally potatoes, rarely vegetables").
Pawlcyn, who's been featured on Bravo Top Chef Masters, owns two additional Napa eateries: Go Fish, which features Napa's first sushi bar, and Cindy's Backstreet Kitchen. "Cindy's is my experimental kitchen, where I go wild," she says.
We talked to Pawlcyn from her home in St. Helena, Calif., where she was finalizing the menus for her Food and Wine Classic Weekend at the Kahala Hotel and Resort, April 22-23.
"I want to make sure I make full use of the fresh ingredients Hawaii grows," she says. Which figures, since many of the ingredients at her Napa restaurants are grown in the 2-acre garden at Mustards Grill or the acre she's planted around her house.
Pawlcyn will do two dinners at the Kahala, though it will actually be four menus. Vegetarians take note: She will do a full vegetarian menu each night as well as the main dinner.
Friday, Apr. 22, will be a dinner from Cindy's Backstreet Kitchen: scallops with almond caper butter, baby octopus Salad, grilled squab, and dry-aged Prime New York steak with wild mushroom sauce.
Vegetarians will get pea soup with crème fraiche, crispy tofu on curried slaw, a mushroom pot pie and stuffed pasilla chiles.
Dinner, Saturday Apr. 23, will be from Mustards Grill. Dishes like wild mushroom risotto with grilled Chanterelles, grilled swordfish with roasted cauliflower, Mongolian barbecued lamb chop with "herb riot." A full vegetarian menu as well, with items like sweet potato and almond-golden raisin tamale with Yucatan tomato salsa.
Both dinners will feature wines from Pride Mountain Vineyards (above left), the Napa-Sonoma family vineyard with whom Pawlcyn has worked for years. "They are good people, good farmers. They have good respect for the land and they make delicious wines," she says.
Saturday will also feature a lesson from Pawlcyn on how to make her mini-duck burgers with shiitake mushroom ketchup, plus a wine seminar from Pride Vineyards and a cigar "experience" from Davidoff's Michael Herklots.
Cigar smokers take note: Saturday will also feature the single best smoker in the Islands: post-prandial cigars on the Kahala's beach, 10:30 p.m. until midnight. "I will be there for that," says Pawlcyn. "But I don't think I'll be smoking any cigars. Should I bring my swimsuit?"
The dinners are priced at $150, other events individually priced. For more on Pawlcyn, including her four cookbooks, click here. For more on Pride Mountain Vineyards, click here.
For event information: Kahala Hotel & Resort, 5000 Kahala Ave., (808) 739-8888, toll-free at (800) 367-2525, www.kahalaresort.com.