Name Bishop Museum's New Dinosaur
Win tickets to Jurassic World, free museum admission and bragging rights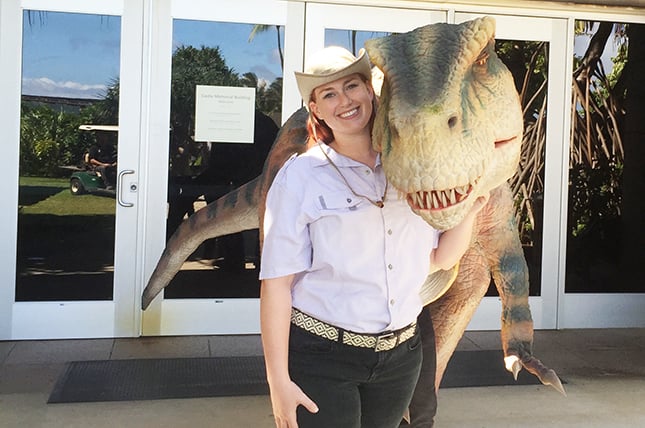 Photo: Bishop Museum
A new Gorgosaurus is about to arrive in Honolulu. She's 15-feet long, ready to roar and will soon be walking through the crowds at Bishop Museum's "Dinosaurs Unleashed" exhibit.
The new dinosaur is actually a full-body costume designed to give kids and adults a unique experience learning about the anatomy and behavior of dinosaurs. The costume includes complex mechanics and audio effects that will be operated by specially trained staff. The result, is a realistic and eye-level look at everything from the way the extinct creatures walked and moved to how it acted in real-life situations.
"At a recent all staff meeting, we surprised everyone with introducing our dinosaur character, and the reaction was great!" said Claudette Springer, marketing and public relations manager at Bishop Museum. "Some of her cousins are film stars. You might have seen one cousin in the 3D movie adaptation of Walking with Dinosaurs. A distant cousin, T-Rex, is even more recognizable with a starring role in the movie Jurassic World."
The realism is great for older kids and adults. But, the Bishop Museum warns parents of little ones that the dinosaur may scare small children.
The Gorgosaurus makes her debut on June 13, then will appear every weekend at 10:30 a.m. along with a trainer to answer any questions. But she still needs a name. Submit your name to Bishop Museum by June 8 for a chance at a prize package worth more than $250. It includes Museum membership for free admission all year round, a special face-to-face meeting with the new dinosaur, dinosaur-themed prizes and two tickets to the advanced screening of Jurassic World. Not to mention, it's just cool for your kids to say they named a dinosaur.
The contest is open to kamaaina and military 13 years and older.
Mahalo for entering. The contest is closed.