Movie Review: Finding Dory
Disney strikes a balance of heart and humor in its sequel to Finding Nemo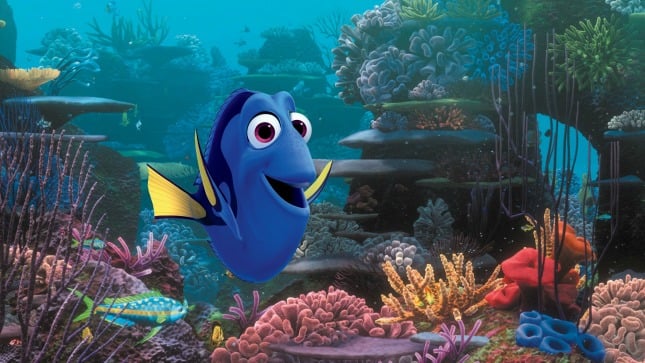 Dory gets her own story in the sequel to 2003's Finding Nemo. Images: Walt Disney Animation Studios
You will never look at children's touch pools the same ever again. That's just one memorable moment of the sequel to Finding Nemo. In some ways, the movie is Finding Nemo in reverse—Instead of tracking a father searching for his son, we follow a child looking for her parents. And the journey is certainly entertaining.
Here is the premise. Dory is still living with them in their reef. One day, the forgetful fish has a flash of a memory of her parents. She and her clown fish friends across the sea and discover Dory's original home was an aquarium-like ocean center. There, she meets an octopus on the run, is reunited with a giant, near-sighted whale friend and eventually changes all of their lives, as well as the fate of dozens of other fish who were saved from the ocean.
First of all, when Finding Nemo came out in 2003, I was a single girl who thoroughly enjoyed the tale of little stunted-finned Nemo and his adventures in a dentist's fish tank. Now that I'm a mom of two, the premise of a tiny Dory being swept away from her parents is actually terrifying. Once I got over my inclination to burst into tears every time a flashback showed the big-eyed, baby-voiced Blue Tang playing with her loving parents (I tend to become sappy when watching movies) I found a lot to enjoy.
The lovable short-term memory Dory is even more charming in her own film. Ellen DeGeneres voices the fish with heart and humor, and adds a sense of longing and determination in the hunt for family. You can't help but cheer for her as Dory gets every step closer to not only finding her mom and dad, but also rediscovering childhood memories. The idea of a fish trying to get into an aquarium, instead of the other way around, is also genius and allows for some of the funniest moments in the film as Dory, Nemo and Marlin try to get around on land by hitching rides on strollers, jumping through a water jet play area and hitching a ride in a bucket carried by a wild-eyed loon.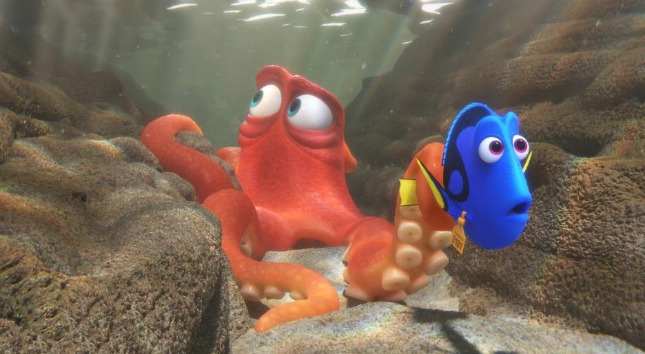 Dory and Hank.
Finding Dory also receives a boost from new characters. Front and center is Hank (Ed O'Neill), the seven-armed octopus who is desperate to stay in captivity instead of being released back into the ocean. He is the camouflage expert and crotchety foil to Dory's hopeful naivety, swigging coffee from the pot and sneaking his way across the aquarium. One of my kids' favorite moments was playing "find Hank" as the octopus camouflages himself into every background during the credits. Adding to the comic mix are a near-sighted whale shark named Destiny (Kaitlin Olsen), self-doubting Beluga whale Bailey (Ty Burrell) and a pair of territorial, Cockney sea lions (Idris Elba and Dominic Wes).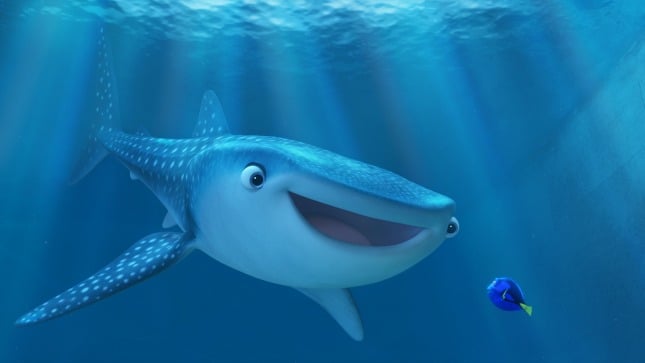 The reason Dory can speak whale. Dory and Destiny.
My group of kids were entertained through the entire hour and 43 minutes. One highlight came when, Dory and Hank accidentally ended up in a touch pool with team of terrified starfish. But, in signature Pixar style, there are several jokes just for adults such as when Dory almost teaches Nemo's school of fish about the birds and the bees. And keep an eye out for the multiple references to Finding Nemo. My favorite was the movie's translation of sea lions barks as they kick others off their rock, it's reminiscent of the seagulls calls "Mine, mine, mine, mine, mine" in Finding Nemo.
The underwater visuals are gorgeous, much like the first movie. 3-D was fun but is not necessary. Scary moments? There was one that made my 5-year-old pause involving a giant squid. But it wasn't too bad. Otherwise Finding Dory is definitely little kid friendly. Don't miss another gem before the film, Pixar's latest short about a tenacious sandpiper called Piper is adorable. I'd buy the DVD or Blu-ray just to see that again.
Finding Dory opens Friday, June 17. It's rated PG and runs 103 minutes. movies.disney.com/finding-dory.