Morimoto Waikiki raises more than $100,000 for Japan Relief, with a single party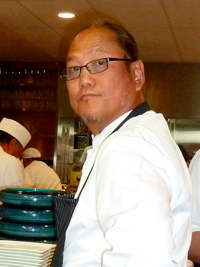 Last night Masuharu Morimoto cooked up $125,000 to help Japan recover from earthquake and tsunami.
Literally.
Morimoto himself, in shorts and white tennis shoes, was behind the sushi bar of his Waikiki restaurant, making salmon and toro nigiri for a line of people that wrapped its way through the aisles.
All those people—who'd paid $150 to be there, $300 if they wanted a table—seemed more than pleased, both to be at the party and to support Morimoto's efforts to help his homeland.
Morimoto was donating to Japan relief 100 percent of the evening's proceeds, including the $73,000 raised by a live auction of high-end items, like a private dinner in your home for 10 of your friends, cooked by Morimoto personally.
Setting aside for the moment the irony of Japan's distress turning into a Honolulu gala, it was a remarkably successful evening, the Morimoto staff hustling incredibly all night, the bar filling forests of wine glasses, and cooks manning stations throughout the restaurant.
In all due deference to Morimoto's personally made sushi, one of the hottest items was a takoyaki, a kind of street food, stuffed with Big Island abalone and dotted with Kewpie mayonnaise (left). Though there were partisans of the sliders with foie gras as well.
Singing from the stage was Raiatea Helm, for whom the evening was personal.
Helm had been rehearsing in Shinagawa, 200 miles from epicenter, when the quake hit. She and her musicians ran down 22 stories of stairs to the ground. "Terrifying," she says. "Big buildings were swaying like palm trees. We were OK, but poor Japan."
Morimoto himself was at his Napa, Calif., restaurant during the quake. He flew back to Japan the next day. "I was in Tokyo, but I was frustrated, couldn't even do anything, couldn't get there, the roads, the highways. I came back here so I could do something."
In five days, he put together and sold out the fundraiser.
I suggested people in Hawaii especially cared about Japan.
"Hawaii especially cares about Asia," said Morimoto-san. "But in this world, now, everybody cares about everybody."
Morimoto Waikiki, Waikiki Edition Hotel, 1775 Ala Moana Boulevard, (808) 943-5900, www.morimotowaikiki.com