Morimoto Waikiki: Good, but hardly "the ultimate culinary experience"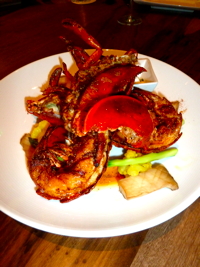 Morimoto Waikiki is the hot new restaurant in the hot new boutique Waikiki Edition hotel. Its press materials promise the restaurant will provide "the ultimate culinary experience for locals and travelers alike."
That's some promise, even from a famous TV chef.
Last night was my third visit to Morimoto, counting the opening mass party and a reasonably pleasant, but expensive teishoku lunch. The restaurant was good: At this price point, in this fancy designer room, with Morimoto himself in the kitchen, it better be. But an ultimate culinary experience? No.
I was with a party of five, so we cut a wide swath through the menu.
If you're going to be blown away by anything at Morimoto, it's the presentation of the appetizers. The hamachi tartar, for instance, comes layered in a little wooden tray, with another tray holding precise squiggles of six accompaniments, from a nori sauce to guacamole. (That's it at the left.)
The pressed layered sashimi (toro, smoked salmon, unagi, una, hamachi) came with little plastic eyedroppers of sauces—yuzu, red pepper, chili pepper water and so forth.
The most brilliant of the appetizers didn't rely on a gee-whiz presentation. Hardly anyone serves lamb as carpaccio. But here the totally rare lamb was mild, but just flavorful enough to outshine beef carpaccio and to stand up to the dollops of ginger-scallion sauce.
Some things, however, were decidedly not brilliant. The restaurant offers oysters with foie gras and uni. Sounds incredible. So why would you slather each oyster with a thick sweet teriyaki sauce so you couldn't taste any of the three major ingredients?
The whole lobster is roasted with garam masala (ground spices like peppercorns, cumin, coriander, cinnamon). As interesting as the spices are, you cannot taste lobster. You're likely to balance the spices by adding to each bite a bit of the lemon creme fraiche which comes on the side. The creme fraiche is deftly made, but further obscures the lobster you've just paid $47 for.
The seafood toban yaki is full of prime seafood (more lobster, clams, scallops and the world's tiniest mussels), but it's in a miso-sake broth so red with pepper that it would do a neighborhood Korean restaurant proud. If you order this, get a side of rice. Otherwise, the broth overwhelms your tastebuds and prevents you from tasting, for instance, the first-quality scallops.
My favorite entree? You may laugh. Morimoto makes the best oxtail soup I've ever tasted. Big meaty oxtails in a rich broth fragrant with five spice, with fresh wasabi in shoyu-based dipping sauce, and garlic fried rice. It's $14, pricey perhaps for oxtail soup, but entirely reasonable for a Morimoto entree. If I go back, I'm going to sit at the bar and order a bowl. That might actually be an ultimate experience.
Morimoto Waikiki, Waikiki Edition Hotel, 1775 Ala Moana Boulevard, (808) 943-5900, www.morimotowaikiki.com