More Million-Dollar Views at Waikiki's Colony Surf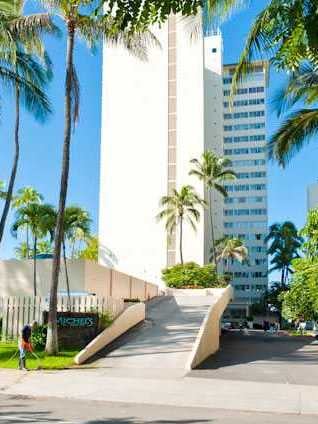 As I mentioned in yesterday's column, the Colony Surf in Waikiki's Gold Coast neighborhood has long been an in-demand address. With eight units currently listed for between $500,000 (a ground-floor studio) and $3.5 million (an expanded three bed/three bath), the Colony Surf isn't exactly the most affordable building on the Kalakaua strip, but what you get for your money is location, views and amenities.
I was able to view three different units last weekend, and was struck by the fact that every one of them offered endless ocean vistas, as well as Diamond Head and Waikiki shoreline views. And many of the apartments, particularly those on the mauka end, had terrific air flow, so no need for A/C. And, thanks to the building's sturdy, concrete construction, the units are exceptionally quiet.
The two condos I've highlighted below are vastly different from the penthouse studio I featured yesterday. Both were recently renovated, though in two very different styles, which, in my mind, shows that every unit in the building, even the most outdated and basic studios, has tremendous potential. And, with views like these, finding a focal point for your design is a no-brainer.
Unit #1102
This 900-sq.-ft. unit is listed as a one bedroom/one bath, though the shutters that originally separated the bedroom from the living spaces have been removed. A local couple owns the apartment, which they have been using as a guesthouse for visiting friends and family. Remodeled in 2006, the unit features marble floors throughout, crown molding and an abundance of storage in the form of custom cabinetry. The kitchen was also updated, with granite counters, new appliances and cabinets, as was the bathroom, with a newer vanity and shower. The unit comes with one parking stall.
List price: $995,000 fee simple.
Fees: Monthly maintenance is $523; co-op loan costs $481.
Contact: Sachiyo S. Braden, Sachi Hawaii Pacific Century Properties. 596-8801, sachi@sachihawaii.com.
| | | |
| --- | --- | --- |
| | | |
Unit #1802
Renovated in 2000, this one-bedroom/two-full-bath unit is big on space (1,440 square feet), the result of two apartments being combined into one. The upgrades include: scraped ceiling with recessed lighting, marble and bamboo floors, totally updated kitchen and bath with both a shower and soaking tub. The unit comes with two parking stalls.
Listing price: $1,675,000 fee simple.
Fees: Monthly maintenance fees are $930; co-op fee is $850.
Contact: Suzy Hemmings, Coldwell Banker Pacific Properties. 342-0077, suzyh@cbpacific.com.