More Kakaako plans unveiled today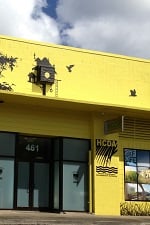 Two Kakaako development proposals will be presented today before the Hawaii Community Development Authority.
At 9 a.m., the panel will hear from The Collection, LLC, about plans to demolish the Auto Mart USA building on Ala Moana Boulevard and South Street to develop three residential and retail buildings.
The project includes a 400-foot tower comprised of 397 residential units and retail space. A second mid-rise would include another 54 dwelling units and more retail space. In addition, the proposal would add a smaller retail building, 16 townhouses and a parking garage to the area.
At 10 a.m., a second public hearing will be held for a proposal from Victoria Ward, Ltd., which will present the first project in its Ward Neighborhood Master Plan. The proposed project at 404 Ward Avenue includes a high-rise residential tower with 415 residential units, commercial space, parking and a 25,650 square foot recreational space.
Both public hearings will be held at HCDA, located at 461 Cooke Street in Kakaako. More information is available at www.hcdaweb.org. Testimony will be accepted on the website up to 24 hours after the meeting. Anyone wishing to testify in person should sign up at the beginning of the hearing. Those submitting written testimony in person should provide at least 30 copies.