The Moment You Know
Editor's Note: Welcome to the Parent Club.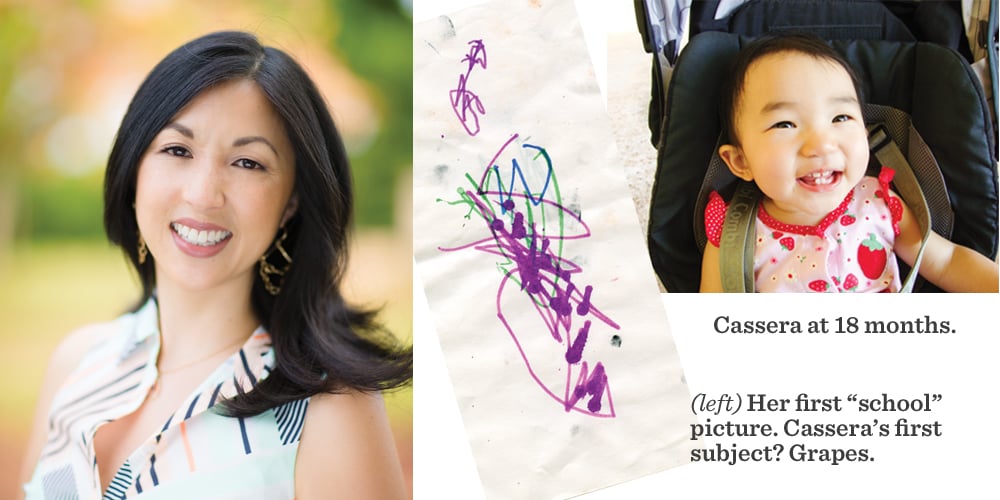 The day I discovered my Emmy Award had been repurposed into the family's fairy wand holder, I knew my life had changed.
Actually, I've been having these "aha" moments ever since I walked away from 10 years in television news to have my daughter. For the past four years, Cassera has constantly delighted, frustrated, and never failed to entertain me and my husband. Now we are filled with the types of experiences that solidify membership in the "parents club."
For example:
The month you came down with conjunctivitis, an ear infection AND hand, foot and mouth disease.
The hectic morning you, your little one, or both, arrived at school/work with two different shoes.
The day you teared up watching your "baby" walk into his or her first classroom.
The day your refrigerator officially disappeared behind a wall of artwork. (Ours started with Cassera's first picture of "grapes", above.)
Read more in our web exclusive, "15 Moments You Know You're a Parent." We'll also tell you how to share your "aha" moment with us for a chance to win spa or restaurant gift certificates!
Every tale, from the hilarious to the heartfelt, reminds me how lucky I am to be a mom. Now, as the new editor of HONOLULU Family, I am even luckier to have the opportunity to share special ohana moments of families across Oahu.
So let's create even more memories! To get us started, chef Fred DeAngelo (OLA and The Grove) shares his recipes for healthy after-school snacks he and daughter Maya love to make together, on page 10. On page 16, see how local families make the most of their time together, even during typically frustrating commutes. We have keiki-tested and approved books for storytime on page 6, and mark your calendar with our picks for fun events for the fall, page 8.
Send me your thoughts, stories or ideas anytime to christiy@honolulufamily.com. Thank you for welcoming our family into yours!