Mom Talk: Q&A With Mom and Business Owner Emma Wo
We caught up with the founder of Ava + Oliver, a line of modern baby goods for feeding, changing and play time.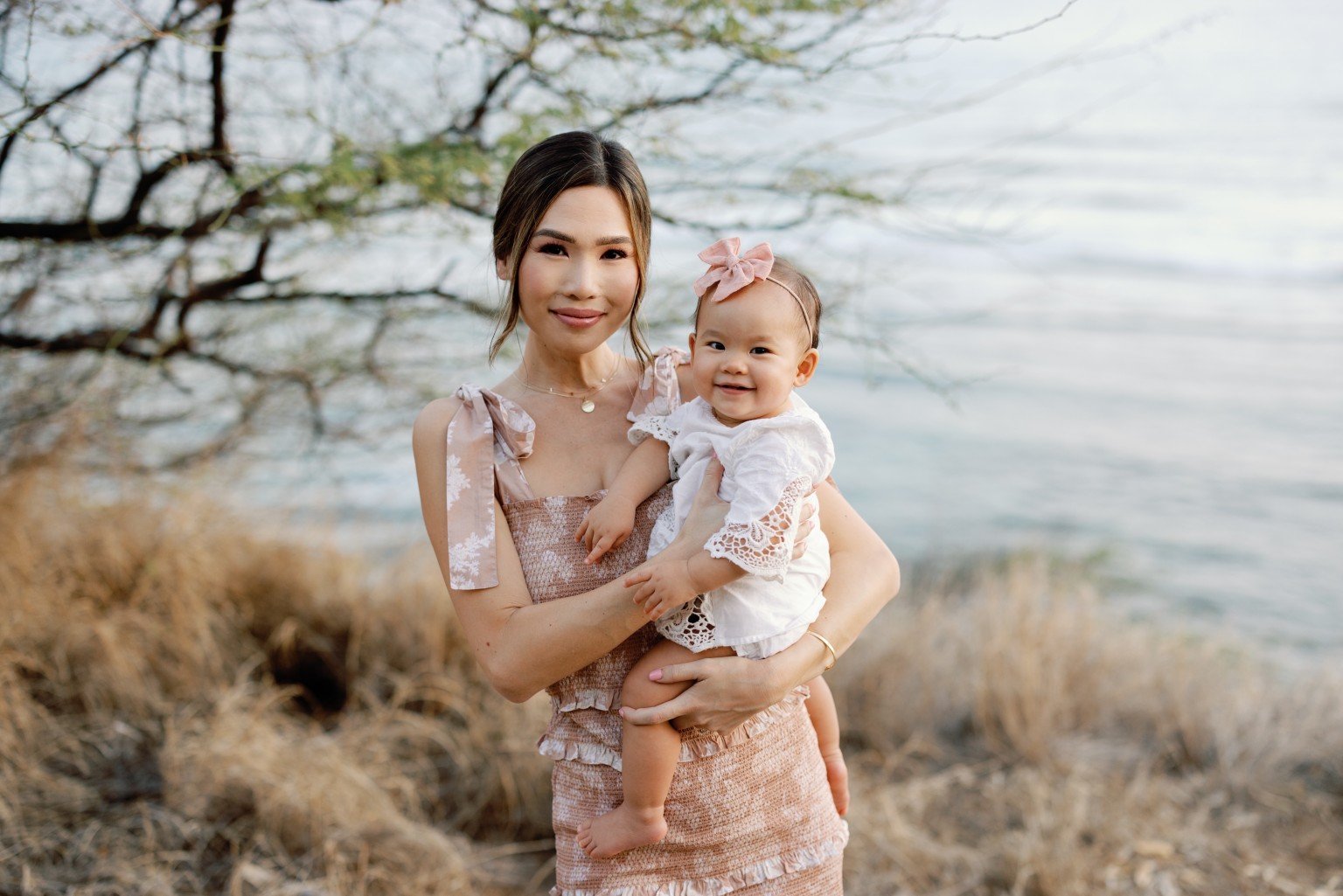 After continuously searching for the perfect baby shower gifts for loved ones, and planning for her own family, in 2019, Emma Wo decided to take matters into her own hands and start a baby company. Enter Ava + Oliver, a modern baby brand that features functional products that are both stylish and non-toxic. The items are designed to lessen the mess—and therefore, lessen the stress—for parents and caregivers.
We especially fell in love with the brand after seeing the silicone bibs featuring illustrations by local artists (surfboard prints, plumeria lei—precious!). Soon after, the brand launched its oh-so-necessary suction plates and placemats, and later, the equally aesthetically pleasing vegan leather changing mats.
"The bibs catch all the extras, plates suction to the table, and eco-friendly changing mats provide a nice clean space to change your baby on the go," Emma continues, "As a mom I'm always coming up with new product ideas while caring for my daughter, and trying to create products that make busy parents lives just a little bit easier (and cuter!)."
Her product tester and inspiration is, of course, her daughter Isla, who's now nearly two years old. We caught up with Emma for advice on starting a business, where to go in Honolulu for fun with little ones and what to expect from Ava + Oliver in the future.
Q: What's new for Ava + Oliver—any upcoming launches?
A: This fall, we will be launching our brand-new tie dye bento boxes in two colors. Kids and adults alike have made our bento box a customer favorite, so this launch will introduce a fun new style to add to the collection.
Q: Any advice for new moms, for those starting a business, or both?
A: My advice for new moms is to be kind to yourself, and give yourself grace as you adapt to a whole new phase of life. For me, the journey of becoming a mom and starting a business have had some similarities. It's a beautiful journey and it can also be overwhelming at times. In motherhood and in business, it takes a village. Having a solid support system or team in places makes a world of difference.
Q: What are your favorite activities to do with your daughter?
A: My daughter is a water baby and loves being at the beach or swimming in the pool. We feel lucky to live in a place where we can do that all year long. Our favorite beaches to take her to are Kailua Beach and Ala Moana Beach Park.
Q: What is your go-to spot to have fun with your family in Honolulu?
A: We love taking Isla to interactive places like the Honolulu Zoo and the Hawai'i Children's Discovery Center on the weekends.
Q: What are some of your favorite local businesses?
A: As a family, we love heading to the KCC Farmers' Market. While we're there, we usually get a banh mi to share from Pig and the Lady, and a fresh acai bowl. When I have some time to shop, you can usually find me at local boutiques like Gillia and Bikini Bird.
Q: The holidays are coming up—what are some of your favorite holiday traditions?
A: My favorite holiday traditions are decorating the tree, building a gingerbread house, and going to see the Honolulu City Lights like I did throughout my childhood. I hope to be able to do all that and more with my daughter.