Mini Pineapple Upside-Down Cakes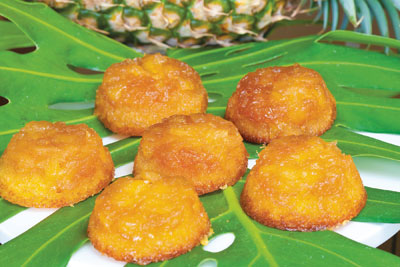 Mini Pineapple Upside-Down Cakes
The perfect cakes for grazing at a party
Ingredients:
1 (Unit) box yellow cake mix
1 (Unit) light or dark brown sugar
1 (Unit) sticks butter (melted)
1 (Unit) cans crushed pineapple (drain juice and put to the side)
(Unit) Teflon or nonstick muffin pan (24 cups)
Instructions:
1. Preheat oven to 350 degrees F.
2. Put one level teaspoon of brown sugar in each muffin cup.
3. Pour butter into each cup to cover sugar and mix.
4. Put 1 to 1½ teaspoon of crushed pineapple into each cup.
5. Mix cake according to box instructions with one exception—substitute pineapple juice for water.
6. Put 1 to 2 tablespoons of cake batter into each muffin cup.
7. Cook 19 to 23 minutes until brown and toothpick comes out clean.
8. Transfer baked cakes as soon as cooked from muffin pan to cooling rack.
Notes:
Photo by David Croxford
Preptime: 15
Source: Caryn of Honolulu
Cooktime: 20 minutes
Ready time: 45 minutes