Microbrew Hawaii coffee: Beach Bum Café, downtown Honolulu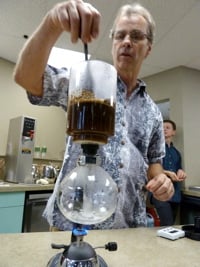 You shop the Farmers Markets. You scrutinize menus for local ingredients.
But what about that cup of coffee you buy each morning, on your way to the office?
A new downtown coffee bar specializes in 100 percent locally sourced Hawaii coffees, often from small producers. Want to know the coffee farm, the elevation, even whether a bean is sundried, and how long? Beach Bum Cafe can tell you.
They have coffees you're unlikely to find anywhere else.
Say, for instance, you'd like a cup of coffee made from Maragogype beans grown on the Kona coast? Beach Bum has it, from a 20-acre farm in Kainaliu, the heart of Kona coffee country.
"Maragogype beans are rare. They're largest and slowest growing coffee beans in the world," says Beach Bum's Dennis McQuoid. "We can get them because the farm planted a few Maragogype trees by mistake."
McQuoid grinds the beans fresh and brews them in an elaborate vacuum siphon pot over a tiny open-flame gas burner.
He's got a counter full of equipment (left). You can have your coffee brewed six different ways—in a vacuum pot, a French press, a sock pot or a Chemex, cold-brewed or made in an espresso machine. Beach Bum is one of the few coffee bars whose espresso blend is 100 percent Hawaii coffees.
The Maragogype is all citrus notes at the outset, reminiscent of orange peel. But, as McQuoid suggests, by the time it cools to about 140 degrees, it takes a rich, deep nuttiness.
A former corporate software salesman, McQuoid studied at the American Barista and Coffee School in Portland, Ore., before setting himself up in the coffee business.
His new store, facing Bishop Street on the ground floor of Executive Center, is half a block from a McDonalds and half a block from a Starbucks. That doesn't seem to faze him.
"People are now interested in where their coffee comes from," he says. "We're happy to talk to them about it. This business is perfect for me: It's social and I love coffee."
Beach Bum Café, Executive Center, 1088 Bishop St., (808) 521-6699, www.beachbumcafe.com