Mexican Lasagna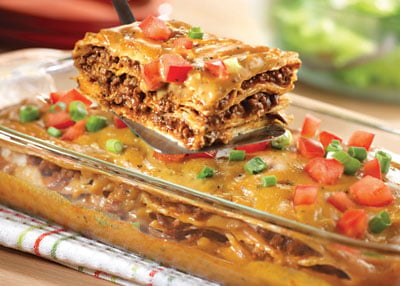 Mexican Lasagna
A Latin twist on a traditional favorite
Ingredients:
1 (Unit) can Campbell's Condensed Cheddar Cheese Soup
0 c (Cup) milk
1 (Unit) package fajita seasoning mix
1 lb (Pound) ground beef
1 (Unit) can Campbell's Condensed Golden Mushroom Soup
0 c (Cup) water
1 T (Tablespoon) chili powder
1 t (Teaspoon) dried oregano leaves, crushed
12 (Unit) corn tortillas (5- to 6-inch)
oz (Ounce) Chopped tomatoes (optional)
oz (Ounce) Sliced green onions (optional)
Instructions:
INSTRUCTIONS:
1. Stir cheese soup, milk and half the fajita seasoning in medium bowl until mixture is smooth.
2. Cook beef in a 10-inch skillet over medium-high heat until well browned, stirring often to separate meat. Pour off any fat.
3. Stir mushroom soup, water, chili powder, oregano and remaining fajita seasoning in skillet and heat to a boil.
4. Reduce heat to low. Cook for 5 minutes. Remove skillet from heat.
5. Place 3 tortillas in the bottom of a 2-quart shallow baking dish, overlapping slightly. Spread 1 cup beef mixture over the tortillas. Repeat layers twice. Top with remaining tortillas. Spread the cheese soup mixture over the tortillas.
6. Bake at 350°F for 30 minutes or until hot and bubbling.
7. Let stand for 10 minutes. Sprinkle with the tomatoes and onions, if desired. 
Preptime: 15
Source: Family Features
Cooktime: 30 minutes
Ready time: 1 hour