Memorial Day Potluck Recipes
Planning a Memorial Day potluck? Try one of these recipes Honolulu Magazine found from local chefs.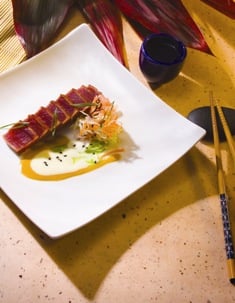 With the three-day weekend approaching, and beach weather finally here, you can be sure everyone and their mother in Honolulu will be celebrating Memorial Day with outdoor potlucks. Here are a few recipes from local chefs that are sure to raise your game and impress all your friends.
Mango BBQ Pork and Pineapple Slaw
You can't have a backyard barbecue without … barbecue. These recipes came from Maui Tacos' chef Jose "Pepe" Vega.
A Duo of Curries: Thai Red Chicken Curry and a Pineapple Shrimp Curry
You can drop by the potluck packing heat, courtesy of these dishes,created by Chai Chaowasaree, the executive chef and owner of Chai's Island Bistro and Singha Thai Cuisine.
Local "Fruit" Salad with Guava Vinaigrette
Chef Marc Anthony Freiberg, chef de cuisine of Mariposa at Neiman Marcus, created a savory dish playing on the fact that tomatoes and avocadoes are technically fruit.
Pork cracklings and Foil Wrapped Mahi
Poke Stop owner/chef Elmer Guzman runs two Poke Stop locations—one in Mililani and one in Waipahu, and still had time to whip up these recipes.

A Whole Dinner:
Grilled Miso Marinated Hawaiian Fish
Waimanalo Sweet Corn Pudding
Dean's Greens with Hawaiian Honey & Vanilla Vinaigrette
You have three whole days to cook! Play in your kitchen by making this complete meal, created by Ronnie Nasuti. Chef Nasuti was executive chef at Roy's, and has since gone on to become the executive chef at Tiki's.