Meet Two Women Who Survived Cancer, and What You Need to Know Now
Lucrecia Fry and Jamey Etherton were diagnosed with cancer. What's next?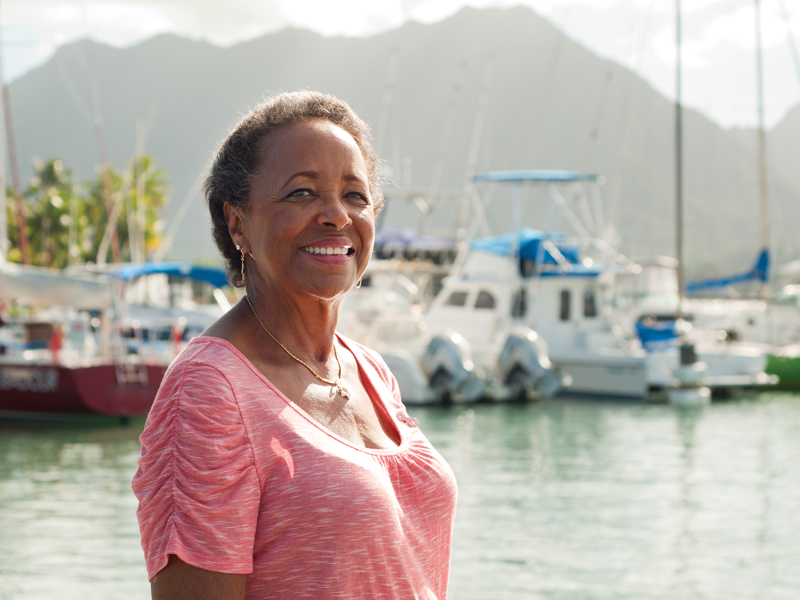 Each year more people—including more women—get diagnosed with cancer across Hawai'i and the nation. While survival rates are also increasing, Hawai'i's ethnic diversity can make detection and treatment more challenging. Still, doctors and patients are learning how to prevent and treat cancer more effectively than ever.
"Everyone in Hawai'i, at some time, will be touched by cancer, whether it is through their own personal struggle or supporting and caring for loved ones battling against the disease," says state Department of Health director Linda Rosen. "The good news is that every year, the number of cancer survivors in our state increases, due largely to the timely use of new cancer screening methods, the discovery of innovative treatment options and more effective medication. In 2009, there were more than 12.9 million Americans still living after having been diagnosed with invasive cancer. In Hawai'i, the age-adjusted death rate from all types of cancer has decreased 15.5 percent among women from 1991 to 2010."
As pink ribbons proliferate during October's Breast Cancer Awareness campaigns, we sit down to talk with cancer specialists and survivors about their inspiring stories, learn some surprising trends and get some tips on what women can do to help fight cancer.
---
Common cancers, 2000–2005
Overall, the most common cancer sites for women in Hawai'i are breast (32.1 percent), colon and rectum (11.4 percent) and lung (10.5 percent).
infographic source: hawai'i cancer facts & figures 2010
---
Who gets which cancer?
Cancer isn't fair. Certain groups are more prone to the disease than others. Native Hawaiian women and white men have the highest cancer incidence rates in the state compared to other groups. Experts trace the differences to a mix of genetic predisposition, lifestyle, socioeconomic status and access to medical care. That's why it's important for both doctors and patients to understand these differences, to treat each case appropriately.
Breast cancer is the most common type of cancer in Hawai'i for women, regardless of ethnicity, accounting for a third of all cases. According to healthtrends.org, Hawai'i's breast cancer rates increased by 78 percent from 1980 to 2010. Lung cancer is the third-most common cancer for women, and the single most deadly.
With Hawai'i's year-round sun and outdoor-friendly lifestyle, skin cancer remains a big concern, as it's more common for some ethnic groups and more deadly for others. The average annual incidence across women of all races is only 3.3 percent, yet melanoma accounted for 9.8 percent of cancers in Caucasian women from 2000 to 2005. It's even higher for white men. That's not surprising—if you have fair skin, you're more likely to get sunburned. However, nonwhite patients have a higher risk of death from the disease. "People say, I never thought this would happen to me," says Dr. Shane Morita, endocrine/oncologic surgeon at The Queen's Medical Center. "I never thought I would get melanoma because I'm so dark. But there are different types of melanoma not associated with the sun," Morita says, which is why awareness and education are so critical.
---
Cancers by Race, 2000–2005
Some cancers are more common in women of certain ethnicities and less common in others. Here's the good and the bad, by percentage above or below average incidence.
infographic source: hawai'i cancer facts & figures 2010
---
Another startling pattern emerges with thyroid cancer. Filipino patients make up about 28 percent of all thyroid cancer cases, with Hawai'i having one of the highest incidences nationwide, Morita says. Thyroid cancer made up 3.7 percent of all cancers in women and 8.8 percent for Filipino women in Hawai'i from 2000 to 2005, and those numbers have continued to go up. "There are definitely more females getting thyroid cancer, and that's nationally as well as in Hawai'i, at least 3 to 1," he says. Why Filipino women?  Morita says it's probably a genetic predisposition, though it's hard to know for sure. He said some minority communities may not have easy access to medical care or education about cancer, making it more difficult to treat these cases.
The rate of lung and bronchial cancer has been steadily declining for males since the '80s, but increasing in females. Morita says it's not because more women are smoking. He sees fewer people smoking now and the women being diagnosed are mainly nonsmokers. One of those women is Lucrecia Fry.
A shocking diagnosis
Fry was diagnosed with lung cancer when she was 64 years old. "My heart dropped," she says. "To hear that you have cancer … I just took a deep breath and said, OK, where do we go from here, what do we do now?"
She was lucky the doctors found her lung cancer when they did. She had developed a slight cough, which she thought was due to recent minor surgery and prompted an MRI. Otherwise, Fry says,  "I probably would've ignored it."
At almost 69 years old, Fry had just passed the five-year mark of being cancer-free when she found out she had breast cancer. "I had something that just kept telling me, go get a mammogram, go get a mammogram. And then I got a notice from Medicare saying that I was due to have x amount of exams and one of them was a mammogram, so I thought, OK, I guess that's a message, I better go get the mammogram. And good thing that I did."
Fry went through chemotherapy and radiation to treat her breast cancer. Now in remission, she has to get a mammogram every six months for five years, but she considers the disease a blessing. The retired cosmetologist has spent the past 20 years volunteering for the American Cancer Society, teaching "Look Good … Feel Better" classes for women undergoing treatment.
"Before, when I talked with the ladies, I couldn't really relate with what they were going through because I hadn't experienced it," Fry says. She first got involved with ACS when one of her clients found out she had breast cancer, so Fry told her to just get a wig and she'd style it the same as always. "I feel now that I have experienced it I can relate and understand more of what it is they're going through and work with them better."
Since her diagnoses, Fry has been more involved with ACS, sharing her story with others. "It's good to be able to get up there and feel good about talking about it," she says. "I don't want to hide … because I have something to share and it's an encouragement." Fry wants people to understand that those who have had cancer are just normal people.
"I don't want anybody feeling sorry for me," Fry says. "There's nothing to feel sorry for. … The sisters I met this year, the breast cancer sisters, when we're together, we don't even look at each other like we're sick. We're just normal people."
Fry encourages women to get mammograms early and often. Women should give themselves breast exams starting in their 20s, with clinical exams every three years. Many experts recommend that by age 40, women should get annual mammograms. Breast and cervical cancer screenings are available through the state Department of Health's Breast and Cervical Cancer Control Program, which aims to get medically underserved women the help they need. This is especially important when many minority, low-income women miss detection because they can't afford to go to the doctor.
Fry emphasizes just talking with friends and family dealing with cancer. "What you want is just support," she says, "just continue to treat them normal. Be there for them if they need you, and a lot of times they'll say they don't, but don't feel sorry."
---
When Should You Get Screened?
Besides living a healthy life, the best way to fight cancer is to get checked regularly. Here's what you should be doing if you are in your …
20s
Breast (self-exam):

✓

Breast (clinical): Every 3 years
Pap test: Every year (conventional) / Every 2 years (liquid-based)
Cancer-related checkups:

✓

(check during periodic health exams)
30s
Breast (self-exam):

✓

Breast (clinical): Every 3 years
Pap test: Every 2-3 years
Cancer-related checkups:

✓

(check during periodic health exams)
40s
Breast (self-exam):

✓

Breast (clinical): Annually, plus annual mammography
Pap test: Every 2-3 years
Cancer-related checkups:

✓

(check during periodic health exams)
50s
Breast (self-exam):

✓

Breast (clinical): Annually, plus annual mammography
Pap test: Every 2-3 years
Cancer-related checkups:

✓

(check during periodic health exams)
Colorectal screening tests:

✓
60s
Breast (self-exam):

✓

Breast (clinical): Annually, plus mammography
Pap test: Every 2-3 years
Cancer-related checkups:

✓

(check during periodic health exams)
Colorectal screening tests:

✓

Endometrial symptoms:

✓

(check for unexpected bleeding and spotting)
---
Promising survival rates
In Hawai'i, 66 percent of all cancer patients will survive at least five years after treatment. That's double the rate of the 1960s. Though there are still long-term issues cancer patients must deal with on a daily basis, what was once a life-threatening disease is now often just a speed bump. For Jamey Etherton, cancer changed her life in ways she never expected.
Etherton, 41, was pursuing an accounting degree at UH Mānoa when she noticed she was spotting blood occasionally, even though the medication she regularly took for an earlier diagnosis of endometriosis had stopped her menstrual periods. She went to see a doctor.
"I totally believed it was going to be nothing, I'm fine," Etherton says. After all, she had no family history of cancer and was in great health. But when she awoke after a colonoscopy, she found out she had Stage 4 colorectal cancer, the second-most common cancer for women in Hawai'i. "I said, What?! And then just blank. I couldn't even think anything else, just, OK, I have cancer. I couldn't plan, I couldn't see the future, what should I do, it's just one word: I have cancer."
Etherton wasn't scared or worried; she wasn't anything. She had been so sure of her health—she ran about 20 miles and did three or four hours of yoga each week, didn't smoke, and ate mostly seafood and vegetables—that cancer was the last thing on her mind. "Cancer was someone else's issue, not mine," she says. In fact, Etherton had gone to a doctor on the Big Island three years earlier when she noticed blood in her stool, but he didn't take her symptoms seriously. Neither did she. Regular screenings are recommended for women age 50 and up, so why should she go at age 38? In 2010, only 24.7 percent of women had colorectal screenings within the past two years, compared to 43.6 percent in 2003.
Etherton finally got a colonoscopy because her new doctor—who had been stationed in South Korea, where Etherton is originally from—knew that Asian women are at a higher risk for colorectal cancer. From 2000 to 2005, 13.8 percent of all Korean females in Hawai'i with cancer had colorectal cancer, compared to 11.4 percent of women across all races. But Koreans make up less than 1 percent of the population on the Big Island and just 3 percent in Honolulu, according to Hawai'i Cancer Facts & Figures 2010. That can make it harder for doctors to recognize the trends.
From early 2011 to late 2012, Etherton underwent treatment in Hawai'i and at The University of Texas MD Anderson Cancer Center. Even though her cancer had spread to other organs, doctors were able to remove it. During the time of her treatment, she continued with her studies, even when she had to go to class in a wheelchair, and ended up with straight As. She graduated in 2012 with two business degrees and is now a data analyst at Kaiser Permanente. She's going for a master's degree next.
"People normally say when you have cancer you have chemo brain, you cannot remember anything or you cannot think clearly, but I studied and then I passed the CPA exam during all the treatment," Etherton says. "It depends on how you're accepting it and how you live with it. It's not like a death sentence—OK, now you cannot do anything. It's not like that."
Etherton says that, before she was diagnosed, she took life for granted. Since going through this whole process and all the treatment, she's realized "today is today and tomorrow is tomorrow. Even if I don't have tomorrow, I don't want to regret today, so that makes a big difference—actually appreciating having today."
That also means she doesn't live in fear of the cancer coming back. Etherton, now 45, hasn't shown any signs of cancer since last May, though she gets checked every few months. In fact, colorectal cancer mortality is going down. "It is really scary whenever you schedule the scans, but, overall, except the night before the scan, I'm OK. Even if I'm dying tomorrow, I'm OK. That's my attitude, because I did my best and I have no regrets whatsoever."
Etherton didn't have any idea what she was getting into at the time of her diagnosis, so she reached out to the American Cancer Society, which helped her buy a plane ticket to Texas for some of the more complicated treatments. Next month, she's going to start volunteering with the organization to help others in situations similar to hers. "It's very important to have someone supporting you," she says. She credits her husband, Marc, for amazing support for her even when she was ready to give up.
"I think my life started all over again. This is like my second opportunity for myself," Etherton says. "When you hear 'cancer,' don't think that your life is over. … Just take care of it and get treated."
Morita advises patients to meet with friends and family members before going to see a physician, talk about what questions they want answered and write them down. He also recommends carrying a folder of your records and appointments, which ACS provides to patients. Etherton had hundreds of pages of documents that Marc kept so her doctors in both Hawai'i and Texas would be up to date on her situation. "I always tell people it's a marathon, it's not a sprint," Morita says. "There are multiple aspects of treatment," including mental recovery. That's where support groups come in (visit kokuamau.org/services/caregiving).
---
Reduce your risk of cancer
Experts say 30 percent of cancers can be avoided with some everyday precautions:
Know your family history: If your auntie died of breast cancer, tell your doctor, who might advise different types of screenings or more frequent tests.
Get screening tests that your doctor recommends.
Eat healthy and make time to be physically active.
Avoid smoking and other tobacco products.
Wear sunscreen and protective clothing.
---
Moving forward
If found and treated early enough, a third of all cancers could be cured. "There are many more treatment options than there were 10 years ago," Morita says. Since he started medical school in Hawai'i 20 years ago, he's noticed an overall shift in attitude. "Patients are much more in tune about educating themselves first before they come in and see a physician, so they're much more aware."
More than 2,000 people in Hawai'i will die of cancer this year. But cancer specialist Morita sees positive strides being made, both nationally and locally, to reduce those numbers. He cites as an example a new law in Hawai'i that prohibits the use of tanning beds by adolescents. "Tanning beds are actually a carcinogen, classified by the World Health Organization," Morita says, adding that there's a 74 percent chance of getting melanoma if you regularly use a tanning bed. Reducing exposure to health hazards and actively making healthy choices are the surest ways to avoid preventable diseases.
"People who have been diagnosed with cancer can improve their health, survival and quality of life by quitting tobacco use, being physically active and maintaining a healthy weight, and discussing a plan for follow-up care with their provider," says Florlyn Taflinger, Cancer Programs Coordinator at the state Department of Health.
"Just because you get diagnosed," Morita says, "it's not a death sentence. There are more cancer survivors today, in the 21st century, than before and advances made in research all the time."
---
Making Strides Against Breast Cancer
Saturday, Oct. 4, 2014
Richardson Field/Ford Island
The American Cancer Society Making Strides Against Breast Cancer walk (5K) is designed to raise awareness and funds to end breast cancer.
For more information: (808) 432-9163, makingstrideswalk.org/honoluluhi, honolulustrides@cancer.org