Meet Three Successful Mom-Preneurs Who Are Doing It All
We chatted with three local superwomen behind some of Hawai'i's thriving mom-made businesses.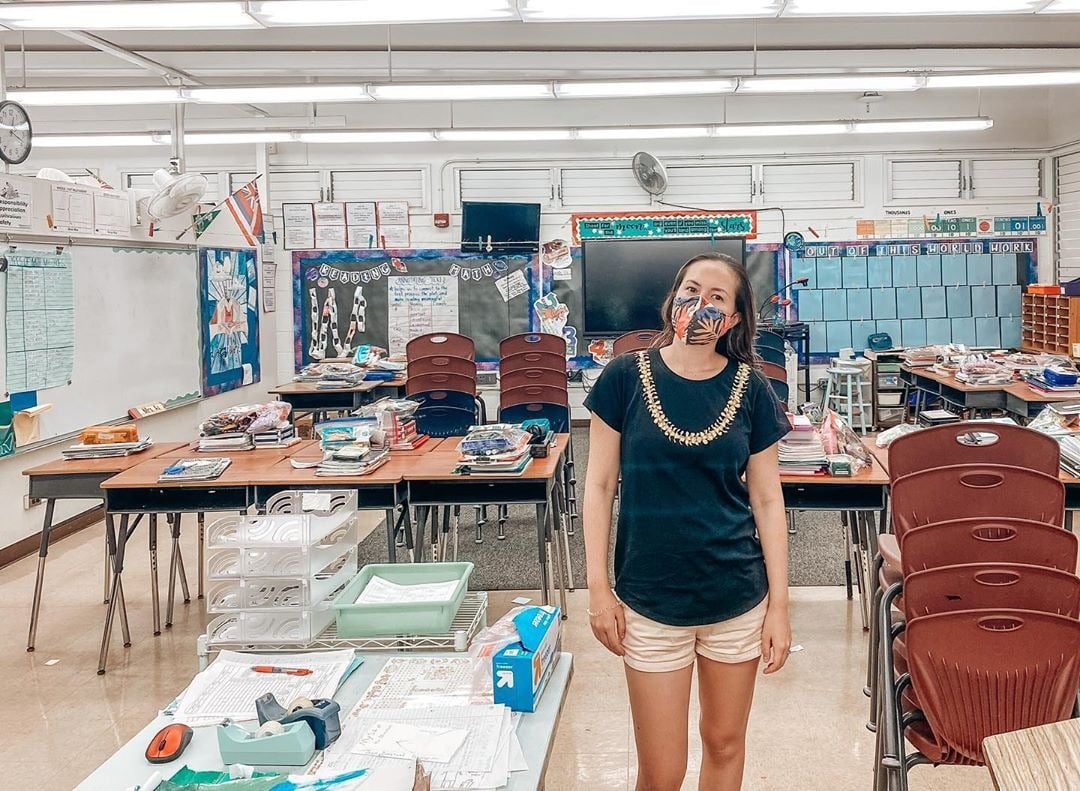 Courtesy of Mahina Made
Being a mom is a full-time job. Yet, here in Hawai'i, there are some incredible women who manage it all: running a successful business, tackling never-ending laundry, cooking meals, and all while handling this little pandemic called COVID-19. We chatted with three of these superwomen who are behind some of Hawai'i's thriving mom-made businesses. The unanimous answer: it's not easy, but it's worth it. They're getting the work done, they're doing it well and we're in awe!
The Crafter
Kailee Freitas always loved hands-on crafts and DIY projects, but never thought about turning her talents into a business until 2016, when she and her husband painted their doormat and then posted it on Instagram. What was just a fun project led to friends asking them to sell the doormat design – the beauty of social media, really. "We just went for it without any expectations and opened up a small Etsy shop!" says Freitas.
That was the start of Mahina Made, an online boutique store selling doormats and now, shirts, stationary, totes and clutches. In two and a half years, the business outgrew Etsy and now has its own website and has pop-up shops and events throughout the year. "I didn't know anything about running a business, so I am definitely learning as I go, but it has been so much fun," says Freitas.
Freitas and her husband have two children and on top of her business, Freitas is an elementary school teacher. "I'm not going to lie — balancing everything can be rough and I definitely have my hard days," says Freitas. Being her own boss, managing her time and learning the ins and outs of running a successful business was a steep learning curve, but she's found ways to succeed. She's a fan of having a good planner to keep track of her tasks. When she needs a break, she'll unplug from technology and hit the beach or go for a hike.
"I've grown to live by the motto 'you can't pour from an empty glass' and it's completely changed how I view life, my time, and my priorities. If you aren't feeling like the best version of yourself, then no one benefits- you lose out and so do the people you interact with," says Freitas, who is thankful for the support from her husband and family.
For moms looking to start their own side hustle, Freitas says it requires a leap of faith, but the rewards are worth it. "Having your own business can be so much more than a job. I've found that so many small businesses here in Hawai'i were started by just regular people with a passion they wanted to share with others. That's all you need to be successful! One of the reasons that I love having my small business here in Hawai'i is the connections that I've made with other mom-preneurs or small business owners."
These relationships with other business owners have given her motivation and energy, especially since COVID-19 became a harsh reality this year. "I had a moment of panic for sure when COVID-19 hit," says Freitas. "As the days went on, I knew I had to adjust my goals, mindset and even vision for the year." She's putting her energy into distance teaching her elementary students and raising her two kids, while also reaching out to other small business owners and connecting with clients. "There's no competition now; it's all about building each other up and that is so amazing. We all recognize that we're in this together," says Freitas.
The Storyteller
Kolby Moser was already a media guru before launching ARIA Studios: a weekend reporter and producer for KGMB9, and she'd worked as a radio DJ for KWXX in Hilo. Hailing from Hawai'i Island, Moser launched ARIA Studios in 2008 after a trip to Thailand where she created a film for Zoe International – an organization rescuing orphans and children from trafficking. "The project made me realize the power of storytelling and how much impact a video can make," says Moser.
Since then, ARIA Studios has taken on documentaries, commercial and wedding films. They shoot nearly 100 weddings a year and have big-name clients like Hawai'i Pacific Health, Hawaiian Airlines, Punahou School and more. Moser hasn't lost her vision for making a change: she donates work and resources to organizations around the world through their non-profit ARIA Children's Fund.
Moser's daughters Hayley and Kaci are seven and five – she was five years into her company when Hayley was born. Prior to having kids, Moser says she used to work maybe 60 to 80 hours a week. "I was always working but I didn't mind it. I loved running a business, growing a team, creating videos. As the years passed, I started feeling that itch to have kids. I knew children would change things but I was not prepared for them to completely change everything!" remembers Moser. Just when she and her husband were getting into a groove, they had Kaci. "Those first couple of years were rough on my business but also the best thing to ever happen. In order to survive, I had to figure out exactly what my role needed to be."
After her children were born, Moser worked on managing her team and systemizing every part of her business to be as efficient and organized as possible. "My friend and business mentor once asked me if it's possible to have it all, to be super mom and super boss," say Moser. "My answer is yes, it is. It takes real self-reflection about what a 'good mom' and 'successful business owner' means to you and your family. There's no right answer and there's no perfect formula but I love that everyone gets to have their own version of perfect mom/work balance," says Moser.
With the pandemic, business has taken a large hit as a total of 42 couples had to postpone or cancel their weddings. Thankfully, ARIA Studios received an SBA loan so no one has been laid off, even though commercial productions have been put on hold. "It's also been a blessing," says Moser. The crew enjoys the break and everyone is spending time with family. "I know this is a stressful time for everyone and we've definitely had our share of dark days. But searching for the silver lining has helped me get through and grow through this period."
She's looking forward to getting back to work and is already helping commercial clients learn about how to share their stories. "From healthcare, to restaurants and schools the message is consistent: Hawai'i is resilient and we will be better and stronger after COVID-19," says Moser.
The Marketer
Advertising and marketing came naturally for Samantha Lee, who worked for Australian Women's Weekly in Australia, where she is originally from. She moved to the United States in 2011 and lived on both coasts due to her husband's active military service. Her family relocated to Hawai'i in 2006 and they have two daughters Harper and Miranda.
She started freelancing in 2014 and officially launched her agency Mix2Market in June 2018. Her typical day starts at 5 a.m., which is when her daughters wake up. She does it all: school pickups, making lunches, prepping for school, taking them to extracurriculars and cooking dinner. Meetings and conference calls are scheduled around school hours.
It's hard work, but Lee stays organized. She's inspired by her parents, who both worked full-time but were able to function as a team and support the family. "My sister, who is also my role model, is another dedicated mother. I feel like that was instilled in us, to be dedicated to our work and to also be focused on family as well." She hopes to set the same example for her daughters.
Marketing comes with its own set of challenges, and not having a set, day-to-day job can be daunting – she has to consistently find and bring in work. But, the rewards are worth it. "Every business presents unique briefs and challenges and I love to always be doing something different," says Lee. Her portfolio includes recruitment agencies, dental offices and restaurants. One of her clients is a local tv show and when her daughters watch the episodes, they get excited that she works for the show. "When they ask me questions about it, I always find that to be really sweet," says Lee.
Her tip for other moms looking to start a business is to not take on more than you can handle. "Depending on what the business is, if you take on the work, you have to be able to deliver and build that reputation that you can be trusted," says Lee. And, while it takes discipline and dedication for any parent to get it all done, being an entrepreneur throws another challenge to the mix. "I think most working parents feel unbalanced at times because you put pressure on yourself to do everything," says Lee. "I personally do my best to plan out my week and be organized."
Her time management skills have been truly put to the test since COVID-19. She is homeschooling her two daughters and working at night. The past few weeks have also been personally difficult as she experienced a sudden loss in the family, so she's thankful for the flexibility of being able to take some time off when she needed it. But the work is still there, and she's grateful.
"I know it's a very trying time for small businesses locally and people are having to make difficult decisions in order to manage the loss of income. Due to the unknown nature of how long things will be closed, it is hard to project the long-term effects this will have. However, I am hopeful we will all be able to recover from this," says Lee.
How First Hawaiian Bank Can Help
Most people, moms included, can feel intimidated and unsure about where to start when it comes to getting a starting loan and understanding the finance side of starting a business. Since the state and the economy are slowly re-opening, there is a new light at the end of the tunnel for people who were forced to get creative while sheltering in place and inadvertently discovered a potential business opportunity that could stretch past COVID-19. Nohonani Leslie, Assistant Vice President and Branch Manager at First Hawaiian Bank, says, "I'm sure I speak for all of our bankers across the system when I say that one of our biggest joys of working for the bank is helping people realize their dreams, before COVID-19 and now more than ever. Being a mom of three myself, I understand all the emotions that go into parenting and it is the hardest (and most rewarding) thing we will ever do so let us handle the finance side for you. First Hawaiian Bank is here to hold your hand through the entire process, from start to finish."
Here are a few things you should know about First Hawaiian Bank loans:
Keep your goals in mind. Write down your questions because more often than not the conversation will uncover additional questions that you hadn't even thought of. Writing your initial thoughts down can make sure you can come back to it is very useful.
First Hawaiian Bank partners with Small Business Development Center when people need help developing their plan or getting a good idea of what other resources may be available to them. Once you and your banker have gone through your goals and objectives and have decided on the best structure for your loan it'll typically take a couple of weeks to complete the process.
Bring, if you can, the following supporting documents such as a detailed business plan describing the products and or services offered, cash flow projections, and personal financial statements for the owners. For existing businesses; two years' worth of tax returns and a most recent profit and loss would be helpful, although not necessary.
First Hawaiian Bank offers business loans, lines of credit and business credit cards. Once they understand what you are trying to accomplish, First Hawaiian Bank can make a product recommendation. "For example; if you are looking for something to support your cash flow because you are waiting for receivables to come in we may recommend a Business FirstLine or a revolving line that would allow you to draw funds as needed," says Leslie. "Lines typically have low monthly payments and give you flexibility until your funds come in. Or, if you are looking to purchase equipment and/or a location, we may recommend a fixed product instead."