May 20 – Homecoming?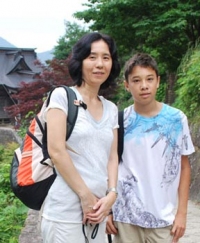 With her return flight scheduled, Yasue just needs to clear a few more hurdles before coming home.
Ian and I have received many emails and texts with good news from Yasue since the 3/11 earthquake and tsunami ravaged Tohoku. The one we awoke to this morning might very well be our favorite. If all goes well, Yasue will return to Hawaii on June 1.
It has been more than four months since she left Hawaii to care for her mom. Of course, we won't measure her time away in months. In fact, we won't measure it in time at all. The passing of her mother. The earthquake. The tsunami. The aftermath. Those will be what we remember. The time has been a blur. The events will remain crisply in our memory for a long, long time.